Facebook is easily one of the best social media sites to promote your content. It is easy and important to maintain a good brand presence on Facebook. It is an engagement community; through a good campaign, you can build your brand. All you have to do is put out quality after making suitable and well thought out campaigns. You can utilize the power of this platform in ways that will set your brand miles apart from your competition.
Facebook has been making it easy for its users to market their business, and it helps them create their leads. If you believe Facebook lead generation is limited to lead ads, you're missing out on a big slice of the pie. While lead ads may help push some customers further along your sales funnel, they are not the only approach you should take to generate leads with Facebook. With more than 50 million business pages, Facebook understands it is essential to provide value for business users and the over 1.4 billion consumer pages. It is up to us to take advantage of all the value.
Based on our own experience in the industry, we have collated a list of ways marketers can generate Facebook leads without being repetitive and boring. Keep in mind these strategies will work only if you've already given enough to your audience and are now going for the right hook.
Ways to generate leads from Facebook without using ads
Add your Website Link to your Facebook Page
When you add a link on your page, it redirects the customers to your business website and customers can learn more about you and decide if they want your services. You must design a good webpage so that the users who visit your site are compelled to purchase.
Sometimes, nothing works as well as a direct marketing strategy. So, if you have an e-book to share or an enticing offer for your audience, it is nice to give them a sneak peek on your Facebook page with links that take them directly to the offer page.
How to do it? Here's how:
To share a link from your Page:
From your News Feed, click Pages in the left menu.
Go to your Page.
Click Create post at the top of your Page's timeline and enter the link that you want to share.
Images from the web page may automatically be added to your post's preview. There are several ways to customise the preview:
Add or remove images: You can remove an image from the preview by clicking.
Edit descriptions: If you've added multiple images, click the description below each image in the preview to edit it.
Edit destination URLs: To edit the destination URL for an image in the preview, hover over the image and click.
Click Post.
2. Use the Facebook Marketplace Feature
Facebook marketplace is the best feature out there for businesses. It helps you generate leads from Facebook. It works like online buying and selling apps like Olx. You can add your catalogue, and people interested in your product will see your ad on the marketplace box and then the user can contact you via Messenger.
3. Pin/Repost Content with Good User Interaction
When you get a significant amount of clicks on individual posts, repost them. It amplifies users to interact with that post, and this way, you can generate more leads. If some have loved it, then the chances are that some more will love it too. Do not hesitate to push old blog posts that got you good traction before, a second or even a third time around.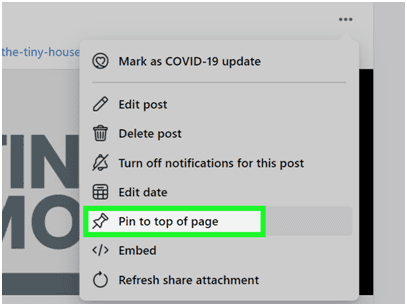 4. Add appropriate links when you post
When you add photos of your products, always add the link to the product on your website. It helps you generate leads from Facebook. This also leads the customer directly to the product, and then they can decide if they want to purchase it or not. A great way to leverage this is by using images from your blog posts and landing pages while publishing them on Facebook, which takes the reader back to the original blog post or landing page when clicked on.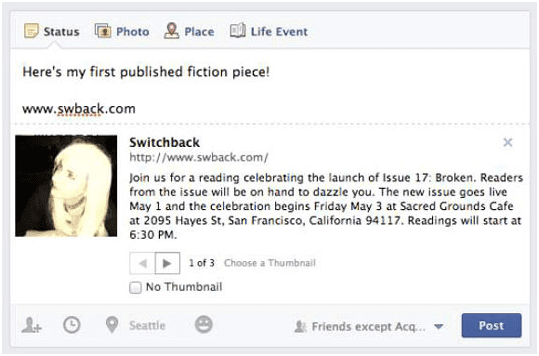 Upload photo albums with a common theme. For example, when posting about a sale on your website, add photos of the products for sale along with the link or coupon for the discount. This way, You can lead the customer to make the purchase by looking at the deal.
Need users to sign up or have an offer to promote – videos are an engaging way of doing the same. Facebook's algorithm favours videos as well. This is similar to creating your advertisement. Create and upload creative videos which can convince the customers to purchase your product, and Your video should clearly explain to them about the offer and how beneficial it is to your user. We know customers love a good discount, but they must realize that buying your product is a win-win situation as they get the product at a lower price.
6. Use the Facebook Live feature
Facebook Live chats are also a great way to promote offers. Create a live session on a topic that interests your audience. You can directly attend to your customers. You can have a QnA session, get their feedback, and promote your product while directly interacting. People prefer a live session over a pre-recorded video any day. It helps you generate leads from Facebook.
7. Contests & Giveaways
Use your Facebook page as a teaser site for contests and giveaways but ensure that your audience participation is guaranteed only after filling in the contest forms on the linked offer page. For giveaways, you can roll out free downloads of e-books or videos, but only after the lead gen forms have been filled out.
Conduct giveaways on your social media platform. It not only helps you increase your followers but also helps spread the word about your brand organically. It helps you generate leads from Facebook. As everyday users promote your page, more people will believe in your product and give your brand a chance.

8. Add a track-able CTA on your Facebook Page
Facebook has had a CTA button for a while now, but most marketers use the same old buttons like 'Sign Up' or 'Contact Us' even directly. You can up the ante by switching your CTA buttons with every campaign and customising it for better promotion. Since it's one of the first things a viewer sees on your page, any change will be easily visible and may have huge rewards. A great way to track the effectiveness of a CTA change is by using UTM links and adding them to the custom URL on your CTA button. You can then use Google Analytics to track the effectiveness of the CTA experimentation.
9. Use Facebook Events
Use Facebook Events to promote an event or even a time-bound offer and link the event tickets to the landing page. Time-bound events on social media usually create a great buzz, and you can use this to generate Facebook leads effectively.
Use the 'Events' option to create a time-bound offer or giveaway and keep updating throughout the day to develop a sense of urgency. Use the strategy of Scarcity marketing so your customers can buy your product in fear of missing out. It is a strategy that works well and is regularly used by big brands.
10. Use Facebook groups
You can join Facebook groups that are similar to what you are selling. Like, Join a chess group to promote your chess classes. It helps you generate leads from Facebook. Facebook groups directly give you access to a certain amount of people with one thing in common, and if that one thing is related to your product, you have a big audience to cater to.
11. Lead Generation Goes Way Beyond Lead Ads
Use different lead generation techniques with Facebook. Play around with what works and track your click rates. And keep evolving your strategy. You can do so much to increase the number and quality of leads you capture from this platform. Just running Facebook ad campaigns may be a useful 'piece' of the entire strategy. Still, it is through leveraging all the features you can use, from custom forms and rotating CTAs to value-packed posts and lead magnets, that you will discover the actual metal of your Facebook business page.
Words from the writer.
Facebook has a vast. Still, it's market, and if used correctly, your business can boom without you even stepping out of your house. The old days of door-to-door sales are over. With social media, you can advertise your product through your devices. Interact with people from any part of the world and lend them your services. Basic Facebook literacy is enough to get you started. Just make sure you have a quality product and a good skill set to pitch to your customers. Viola! Your business is established.
FAQs
Who can manage my business presence with new Pages?
You can give Facebook access to people you trust to manage your new Page. This is similar to sharing admin access on classic Pages. Learn how to provide Facebook with access to your new Page.
2. How can I open my new Page?
Step 1: To open your new Page on desktop: Click on your profile picture in the top right from your home page. Select Switch Profile and select the new Page.
Step 2: To open your new Page on mobile: From the Facebook app, tap on your profile picture in the bottom right. Tap on the new Page.
Step 3: To switch back to your profile on desktop: From your new Page's News Feed, click, select Switch Profile and select your profile.
Step 4: To switch back to your profile on mobile: From your new Page's News Feed, tap, tap … and select your profile.
3. How will people find my new Page?
Similar to classic Pages, if someone searches the name of your new Page in the search bar, they will be able to find you. Your new Page may also appear in the Pages to follow section.