Lead generation is one of the most important marketing efforts of any business. It unlocks the door to a whole lucrative segment of customers and increases business growth exponentially. While doing lead generation campaigns may seem like a tedious task, it is much more exciting and beneficial when it is done right. And right only means done the right way, which can be done through the right techniques. Getting people excited by using the right tactics, messages, and ad language will ensure success in lead generation and ensuing conversion rate increase.
We all want to generate more leads, but getting started with paid ads is not simple. After all, you don't want to throw your money over anything. Lead generation is one of the most important aspects of running a business. You need to have a landing page for your main services and drive traffic to your landing pages from relevant keywords using Google Ads.
Today AdWords is almost identical with digital marketing. Most marketers are aware of Google Ads to target their audience online. Generating more leads from Google Ads can be tough once you reach a certain threshold.
With Google Ads, you create a lead generation strategy—even on a micro-budget of as little as $20 per day—and generate leads on your first try. These leads will be more qualified and ready to buy compared to other paid advertising channels.
What is Google Ads?
Google Ads, formerly known as Google AdWords, is an advertising service by Google that allows businesses to display ads on Google search results and its advertising network.
In the rest of this article, I'll explain How to create lead generation ad on Google Ads
Let's get started.
What Is the Simplest Lead Generation Strategy for Google AdWords?
Keywords. That's right. Using Keyword research can be really crucial for generating leads towards your landing page. The customer is searching for a service so they can schedule a consultation and/or make a purchase decision. A high intention keyword is any type of keyword that can lead to a commercial transaction.
How to Discover Relevant "High Intention" Keywords.
Relevant Keywords
Use tools like Google Keyword Planner, Google's search keyword tool through AdWords, and Google Trends to see which keywords are popular.
If you're concerned about price, Google Keyword Planner and Google Trends are free to use. Most advertisers put 10 or  20 keywords in each ad group. However, it is very difficult to write ads that relate to all  keywords in an ad group. As a result, your ads don't match  what users are looking for, resulting in lower CTRs, less traffic and fewer leads. Instead, put each keyword in a separate ad group. Only one keyword will show your ad, so you can create very specific ads.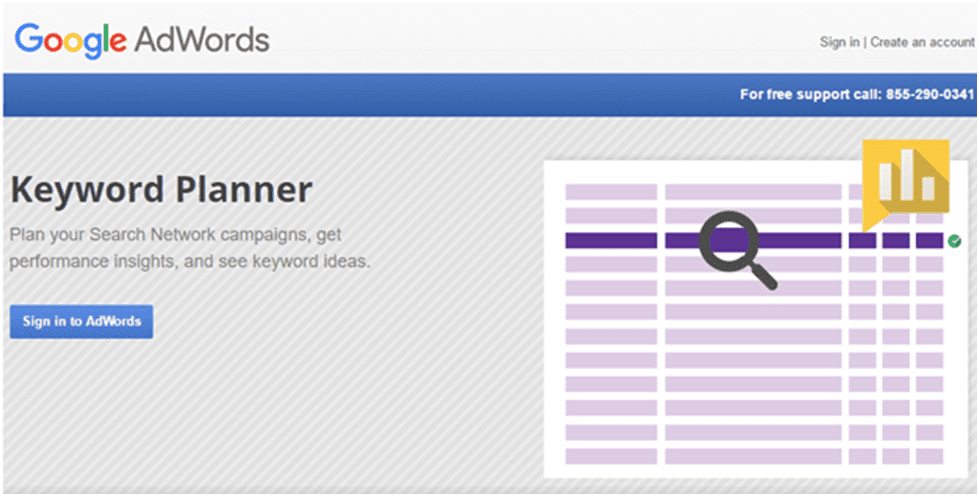 2. Look to Your Landing Pages
It's time to connect the dots on your keywords to your landing page. Personally,  this step works best if you place your landing pages according to your sales funnel level. For example, the info page should be at the top of the funnel. They fill potential customers looking for information about your product or service. Here is the sales page to start driving sales. Finally, you will need a transaction page with service features, a registration form, pricing information and an order form.
Here are 3 Google Ads Campaign Practices to Maximize Conversions:
I.  Make Sure the Landing Page Aligns with the Ad
It is very important to promote the same message on the landing page and in the body of the ad. The syntax must not be the same, but the meaning must be the same. The landing page is the first page on your website that your visitors see after clicking on your ad. If you're running a lead generation campaign, this page should allow your visitors to take action. The design and content of your site are important because you are asking people to share personal information. If your site looks unreliable and professional, your visitors are less likely to provide information.
Here are some factors to keep in mind when creating your landing page:
Loading time
When they click on your ad, you want to redirect them to a page that loads quickly. If the page takes too long to load, the client may get angry and leave.
Credibility
In addition to its clean and professional appearance, make sure you can easily find your contact and business information. This increases transparency and makes it easier for potential customers to contact you.
Navigation
When a customer clicks on your ad, you expect them to see a page exactly what they're looking for. Don't let your visitors have to search your site to find what they're looking for. They need to find the advertised product or service quickly and easily.
Simple forms
If you are requesting information from a visitor, explain why. For example, if you have a moving company, you can ask people to enter information to request a quote.
For best results, keep the form simple and easy to use. Requesting too much information can make people nervous or annoyed and stop filling out forms. The quality of your landing page is one of many factors that help determine a keyword's Quality Score. The landing page relies on features such as the usefulness and relevance of the information provided on the page, ease of navigation, etc.
II. Enhance your campaign
The number one way to increase site traffic? Make sure that your website is appearing in searches. Here are a few tips to help you improve your Google Ads campaigns, and drive more traffic and leads:
Use long-tail keywords
There are two types of keywords: short tail and long tail.
Short-tail keywords are generic and generic and tend to have high average monthly searches. It spends your budget faster because it is more competitive. Bidding on these keywords makes it harder for your ad to rank first in search results.
Long-tail keywords consist of three or more words and are much more specific. It tends to lead to fewer queries but is more relevant. This means it can be used by anyone who knows exactly what they want and is willing to take action. On your part, this will lead to more leads.
Test, and then test again
Continue to customize your campaigns and try new strategies to get more traffic and more leads from Google Ads. Experiment with different bids, ads, keywords, and more. Run two variations of the same ad in each ad group to see which performs better. Change your bid strategy and see if there are any improvements.
Remove underperforming keywords
Review your keyword's performance closely to make sure you're not wasting money on ineffective keywords. For example, if a keyword drives a lot of traffic to your site but has a high bounce rate (they leave immediately after someone clicks on your page), that keyword may not be as relevant as you think. In this case, reallocate budgets and bids for keywords that drive traffic and lead to sales or leads.
Invest in successful keywords
On the other hand, if you know that certain keywords are getting a significant amount of traffic and conversions, you might want to expand your usage. If you're targeting fuzzy exact match keywords, try using a phrase match or broad match variant. If you are already using phrase match or broad match variants, try broad match instead.
These changes may result in ads showing on more searches, increasing website traffic. After you change your keyword match type, monitor the results to see if the new keywords appearing in your ads are performing well. For example, if you're currently using broad match, check which phrases trigger clicks and which ones don't. You may need to update your negative keywords to filter out irrelevant search terms you see.
III. A/B Test Ad Copy
When starting with a limited advertising budget, you don't want to A/B test more than 3 Ad variations at the same time. You won't get a lot of daily impressions on such a tight budget. You want to be able to identify the most effective ads in a short amount of time. But if you're too scattered across too many ads, it's going to be harder to tell which ads perform statistically best. Sufficient data is needed to determine whether A/B testing is successful or not. This is called statistical relevance. Typically, it takes at least 300 conversions or clicks to determine which ad copy works best.
IV. Use Ad Extensions
Think of an extension as a marketing assistant. With these extensions, you add a link, image, or contact information to your ad and your ad will appear. Leaders can also learn more about the company through advertising. Then you can contact us for a consultation. You can also use these extensions to drive more traffic.
What is Google AdSense?
It is a program run by Google through which website publishers in the Google Network of content sites serve text, images, video, or interactive media advertisements that are targeted to the site content and audience.
How to Make Money With Your Blog and Google AdSense?
Adsense is a great way to make money. You get to do what you love i.e. Blogging and getting paid in the process. AdSense allows you to place targeted ads on your blog and monetize your traffic. It also helps visitors find items of interest-based on the content of your blog posts. Best of all, AdSense is free and you can remove ads at any time.
The AdSense engine serves ads related to your blog content, and you can easily customize the look of your ads to fit your blog. If your blog is about fashion, you can run ads for shoe designers or clothing stores. If your blog is about cars, you may see ads for car dealerships or car dealerships. Filters allow you to control the content of displayed ads by choosing to block ad categories or specific advertisers.
The free suite of powerful Adsense reporting tools allows you to create detailed reports to help you track your income and identify more revenue opportunities. You can view revenue by day of the week, by page, by domain, by specific ad unit, and by using Google Analytics to determine where your traffic and revenue are coming from.
Here's how to sign up for AdSense
Sign in to Blogger.
In the top left, select a blog.
From the menu on the left, click Earnings and then Create an AdSense account.
If your blog isn't currently eligible, learn how to qualify for AdSense.
Select the Google email associated with your Blogger account.
Fill out the AdSense form and click Create an account.
Enter your payment details and verify your phone number.
Click Submit.
The system should automatically take you to Blogger to complete the process. If it doesn't, click Redirect.
Key Points
High-intention keywords are those that drive sales. Leads searching for these keywords are usually ready to buy. Compare these to low-intention keywords, where a lead may simply be browsing around.
Relevancy is crucial in keyword selection. Use Google Trends, Google Keyword Planner, and AdWords itself to see which keywords in your niche are trending.
Add your keywords to your landing page tags to attract more traffic to these pages.
Keep your landing page copy and ad copy similar to promote the same cohesive message.
It's better to A/B test three pages than 10. This saves you money and prevents you from spreading yourself too thin.
Conclusion
Improve your landing pages and personalize your ad campaigns to increase website traffic and attract more leads. Your landing page should be clean, professional, and easy to navigate, and you should constantly test new ad copy, keywords, and bidding, strategies to get the best results from your ads. If you have a small budget, you won't be spared a dime. With a Google AdWords account, you can reach more leads without spending a lot of money. You can then focus on creating a product or service that will increase your AdWords ROI. Understanding how to find and use relevant and high-intent keywords can help you target leads and get more conversions on the first try.