Table of Contents
What is Affiliate Marketing?
Start an Affiliate marketing in simple words is marketing for a company and in return, you get a commission on the number of sales you generate. The companies you work with can give you commission based on the number of sales or there can be a fixed amount, it varies based on you and the company you are working with.
How does Affiliate Marketing work?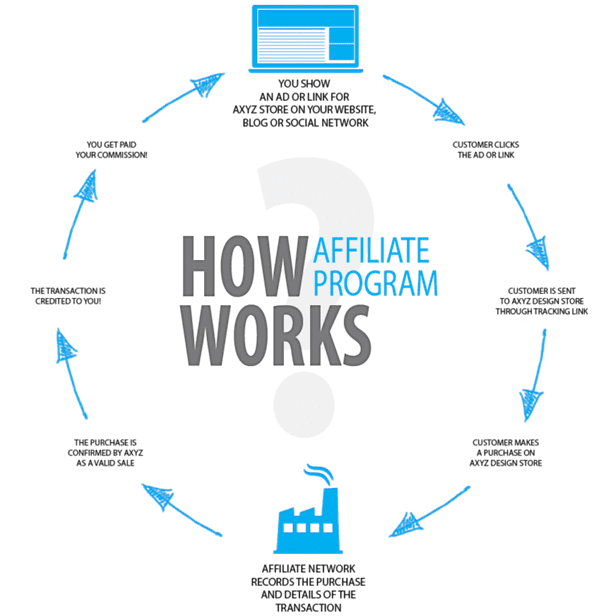 Affiliate marketing works in a very straightforward manner, your client gives you a unique link that you add on your website while talking about your client's business, they give each affiliate a unique link so they can track who was responsible for a sale.
When someone clicks that link, a small file called a cookie gets stored on their device.
An affiliate cookie does two things:
It helps the merchant attribute the sale back to the right person;
It holds an expiration date, so you get paid even if the buyer delays their purchase.
Here's an example of how this works.
Imagine that a reader visits your website to read a post about "Why is it important to buy a cover for your phone". In your post, you can add affiliate links to your client's website where they sell mobile phone covers, it can be their own website or a link to their Amazon leading directly to the product. But they realized they had to pick up some food and so they left without making a purchase. They then finally go back to Amazon where they find the product again and this time make the purchase.  
Here's the good news. Earlier, they clicked on your affiliate link and a cookie was stored on their device. Because Amazon has a 24-hour cookie duration, you get compensated for the sale of Mobile cover along with any other purchase they make.
How much money can I make as an Affiliate Marketer?
The best thing about how to start an Affiliate Marketing is that there is no limit to how much you can earn. It depends on you and the kind of products you market. Initially, you will surely struggle but with hard work and commitment, you can do more than you thought you would. The most successful affiliate marketers make six or seven figures a month.
For example, Pat Flynn from Smart Passive Income made over $100,000 in affiliate commissions in December 2017.
You need to manage your expectations. You won't earn the big bucks right off the bat, but don't let this discourage you. The success of others tells you that with hard work, time, and the right knowledge, you too can potentially reach those levels. How to get started with Affiliate Marketing
1. Choose a Platform
The best part about Affiliate Marketing is that you can do it on any platform. You can write a blog, create video content and post it on YouTube and even Facebook & Instagram can be used for Affiliate Marketing. You can also use all the platforms I have mentioned above so it is easier to build an audience and increase your sales on more than one channel.
You can start blogging, it is easy to set up your own website, there are many articles and videos out there that can help you get started.
Blogging is easy and cheap, good for beginners, it will take you a few dollars every week but if you put your heart and soul into it, you can earn much more than what you spend. Once your site is up and running you can use SEO to have a better ranking, which will drive more people towards your page. You can then add affiliate links to your content.
YouTube is another platform that is very popular these days. YouTube is free which makes it ideal among beginners, but you will have to spend a little based on what type of videos you are gonna be creating. Once you decide what your YouTube channel is gonna be about, you will gain views, likes and subscribers once you build an audience. The only catch is that people like your content enough to Like, Share and Subscribe. Just like a website, you can also optimize your videos for SEO, and include affiliate links in your description box. Be sure to mention it to your viewers. The Federal Trade Commission (FTC) requires you to be transparent when receiving income from an endorsement. You can also earn on YouTube via Google AdSense.
Instagram and Facebook don't exactly fall into this bracket but with the features they have, you can easily affiliate links on these platforms. All you have to do is add links in your Facebook posts as they allow you to do that. In the case of Instagram, you can link only in stories or your bio, Instagram stories are highly recommended for it and have also proven to be successful.
2. Choose your niche
Based on research, there are over 600 million blogs as of now. So it is safe to say that competition is pretty tough and it won't be easy to stand out. Your best chance at blogging is to choose a niche that focuses on a particular category. For example, if you are a football fan then you can choose to blog about a football league or a football team or even a football player.
This way you can build an audience that will click on you easily and also will stay on your site clinging on different links as everything on your website covers a topic that even your reader has an interest in. This will help you keep your topics tight, also can help you build a more focused audience and potentially help you rank higher in search engines. Always remember to optimize your website and perform keyword research for better ranking.
Later on, as you cover the bulk of this category and build traffic to these pages, you can expand into other areas. Many affiliate sites die due to a lack of consistency. So at the very least, if you're passionate about a topic, you'll find it much easier to press on when the going gets tough.
3. Join Affiliate Programs
There are three types of affiliate programs to choose from.
A. High-paying, low-volume affiliate programs
These are affiliate programs for niche products with high payouts.
For example, suppose there is an affiliate program for software that is used by shopkeepers, these programs pay you a high rate for sending a limited amount of customers their way. However, there's a catch, many shopkeepers already use this software, so there is a scarcity of buyers and on top of that, you are not the only one who is part of the affiliate program. Since you're probably just starting, it'll be quite challenging to make a meaningful amount of money competing against skilled marketers with deep pockets.
B. Low-paying, high-volume affiliate programs
These affiliate programs are for products where you get a low payout but can easily find the customer as there is a mass appeal for the products.
For example, take mobile phones. Lots of people buy phones, but the average cost of a phone is only around $400, and affiliate commissions are usually in the single digits. This means you'll earn $2–3 per sale.
The redeeming quality of these types of programs is that they usually offer tons of products to sell. Take Amazon's affiliate program, for example. You can earn up to 10% commissions on almost anything Amazon sells.
The other good thing is that you often get commissions on the entire value of the purchase rather than just the product you recommended. To make these types of affiliate programs pay, you'll need lots of traffic.
C. High-paying, high-volume affiliate programs
These are affiliate programs for products with mass appeal, which also pay high commissions.
One example is credit cards. The downside of these types of products is that they attract affiliate marketers with lots of expertise and deep pockets. Some also use spammy tactics that you just can't compete with. How to decide which affiliate programs to join depends on your niche and level of expertise. If you're targeting consumers, you'll likely go with the second model of low commissions and higher sales volume.
If you're going after a business audience, you'll likely go for the first model: high-paying and low volume. The most popular programs here are for software and web hosting-related products.
The best way to find these affiliate programs is with a Google search. Alternatively, enter a competing affiliate site into Ahrefs' Site Explorer and go to the Linked domains report.
It only takes a quick Google search to find an application form for this program.
However, if there is a product you'd really like to promote without a public affiliate program, reach out to the company and ask if they would be willing to build an affiliate relationship with you.
4. Create Unique Content
If you want your affiliate site to succeed, you need to create high-quality content where your affiliate links fit naturally.
If you don't have money to buy every single product, you can always start with what you have at home. For example, if you had a tech blog, you could create reviews on the gadgets you own.
Marques Brownlee, a famous Tech YouTuber started his journey by reviewing products he had at home using his PC webcam and now he's a renowned tech video blogger who works in collaboration with many big companies, you can say he is among the elite in the tech review world.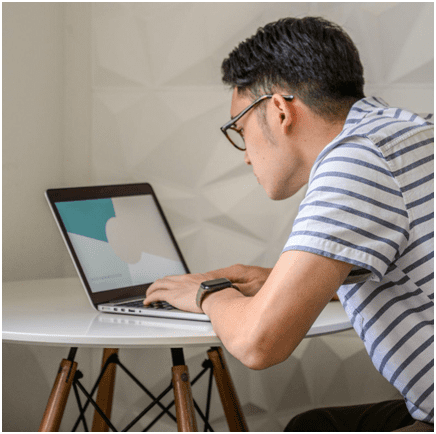 5. Drive traffic towards your affiliate site
You've created great content. The next step is to get more people to read it, so they will click on your affiliate links.
Here are three traffic strategies to consider:
A. Paid traffic
This is where you pay for traffic to your site. The advantage of paid traffic is that the moment you start paying, you get traffic.
However, there are some downsides. First, running ads will dig into your profits. It's quite normal for advertisers to lose money before they make it… if they ever do.
Secondly, once you stop paying for ads, your traffic will stop.
Generally speaking, ads are a great traffic strategy if you're part of a high-paying affiliate program and can make the numbers work.
B. Search engine optimization (SEO)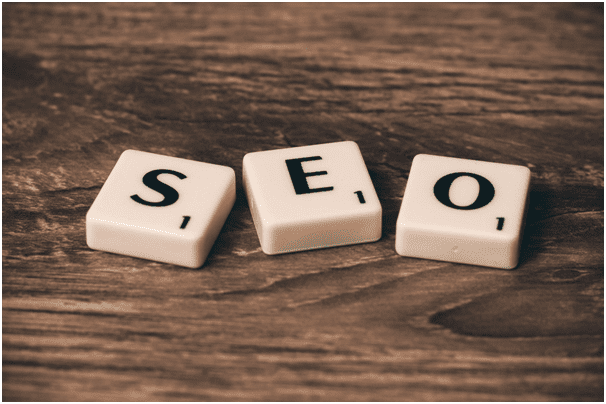 SEO is the practice of optimizing pages to rank high in search engines like Google.
For as long as you can rank high in the search engines for your target keywords, you'll get consistent and passive traffic.
On the most basic level, SEO is about:
• Understanding what your target customers are searching for;
• Creating content around those topics (blog posts, product pages, etc.);
C. Email Marketing
Email marketing allows you to communicate with your readers at any time. Use them to tell fans about new content and persuade them to return to your site for more information. This leads to more affiliate clicks and sales. You can also send affiliate email promotions directly to your list:
To create an email list, you need to get your site's readers to sign up. It means offering something of value. But there are many ways to do this. You can also offer free e-books, email courses, etc. All you need is a little creativity.
6. Get Clicks
Just because you have an amazing piece of content doesn't mean people will click on your affiliate links. There are a few things you need to consider.
Let's say you were writing an article on the best crockery brands under 50$. Today, I'm reviewing three different crockery brands you can buy on Amazon for under $50. These are, product name 1, product name 2, and product name 3 and then follow up by adding affiliate links to it.
In affiliate marketing, two conversions must be made to earn money.
The first conversion is a click on the product page. You have 100% control over this action. Use the tactics above to increase your chances of getting that click.
The second conversion is a visitor who buys the product. In the case of affiliate marketing, merchants control their checkout and conversion rates beyond your control. The trick is to play to your advantage and look for traders with programs that convert well.
Here are a few ways to find them:
A. Public income reports
You can find these reports on Google. If people are making decent money from an affiliate program, then it's likely that the product converts well. Look at public income reports where bloggers publicly reveal how much money they're making from their affiliate deals.
For example, if you search for "income report amazon affiliate", you'll see a few blog posts showing how bloggers have made money from Amazon Affiliates. If you're in the same space, you can also take a look at where her other affiliate income comes from, and potentially promote the same products.
B. Ask questions
If there isn't much information available about an affiliate program you want to join, sign up and ask questions.
For example, you might want to find out what their average conversion rates are, or a ballpark figure of their top earners' monthly commissions.
This can help you figure out if the affiliate program is worth promoting.
C. Use your intuition
Sometimes, it's best to go with your gut feeling.
If the program or product you're checking out feels "off," or if you would personally never recommend the product to a friend or family member, then don't promote it.
Final Thoughts
Affiliate Marketing is surely a good side hustle, but it takes time. These are the fundamentals, and applying them will get you off on the right foot. Just don't expect life-changing income or the freedom to quit your 9–5 overnight. Slowly but surely you will get there, among the people who got you into it, just keep the points I made in this in your mind and keep working hard. Focus on making your first affiliate sale. As your site grows, set new goals, and continue experimenting. This is how to build up a site that eventually generates a decent income.