What exactly is ClickFunnels? How does it work? Is it an efficient way to grow my sales?
If these are a few of the things you are wondering about, here is everything you need to know about ClickFunnels.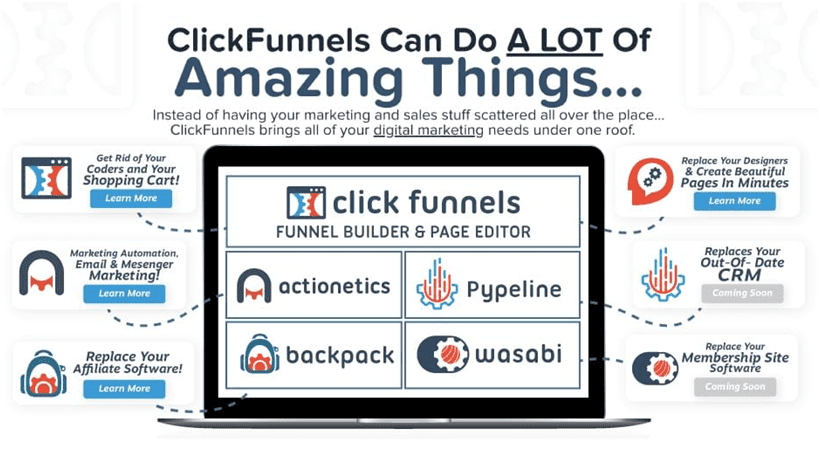 What is ClickFunnels?
ClickFunnels is a sales funnel creator that helps small businesses in growing by helping them automate their sales process completely, allowing them to work on different aspects of the business. It was co-founded it in 2014 by Russel Brunson and Todd Dickerson and has quickly evolved into a very well-known internet marketing tool. ClickFunnels offers an all-in-one service for entrepreneurs and small business who don't want to use multiple tools and hire web designers to sell their product.
A sales funnel in brief is an illustration of the journey that a customer goes through before eventually buying the product or service that the user is selling. Having a system that generates leads, nurtures, and sells to those leads is what every business owner should have in place in other to serve their customers better. To put it quite simply, they are a series of online pages created intentionally to turn visitors into leads and then leads into customers.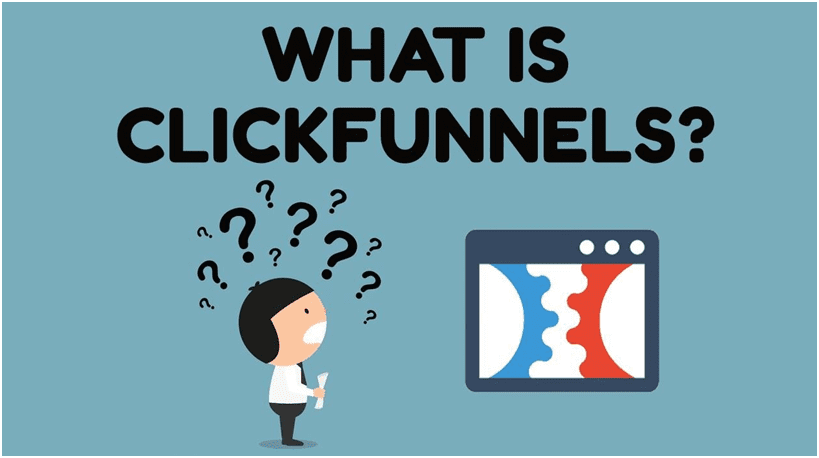 How does ClickFunnels work?
ClickFunnels works in a very convenient and user-friendly manner with maximum transparency. It aids in the process of finding leads, approaching the leads and potentially turn them into future customers.
While the traditional way of growing your business and selling your product in an effective manner requires a large amount of technical knowledge or multiple meetings with web designers, ClickFunnels gives you the ability to manage every aspect of the process with minimal hassle and effort.
Here are some of the key features of ClickFunnels:
· Drag and Drop Page Builder
This feature enables the creation of professional-looking pages within a few minutes without having to rely on designers.
It allows the entrepreneur or marketer to design and edit multiple pages with low effort which gives them the freedom to create highly converting landing pages themselves.
· One-click Upsells and Downsells
This feature helps in boosting the average value of your sales by enabling its users to offer additional products or services without requiring them to add their credit card information continually. This allows the customer to add their product or service to the cart with just one-click.
· Opt-in Forms
This feature allows the user to add someone to your email list and this feature works with other third party auto-responders. It gives users the flexibility to create as many fields as possible depending on the number of details they intend to capture from the customers. It is a very easy to use feature as well with numerous excellent templates already available for you to use.
· Order Forms
Order forms serve as a checkout platform for all the funnels you create and ClickFunnels gives you the complete control over this allows you to create one- step or two-step order forms depending on your preference. They have numerous templates for the user to choose from and encourage it as well by including all the necessary elements required for the order form to work in the templates.
· Membership Area Pages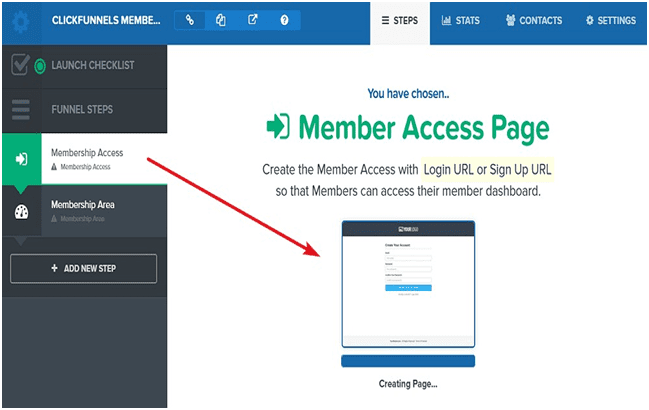 This feature helps in transforming online lessons into more organised and exciting for the customers. This makes it a far superior venture as the user can provide exclusive content to customers after becoming a member. Along with this, it the member's area also has a very smart design and makes it very easy to group the lessons into different categories and sections. It is quite easy to understand and simple to use making it a great feature that ClickFunnels offers to all its users.
· A/B Testing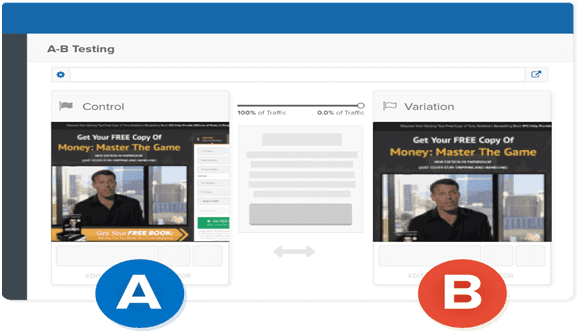 This is a great feature that ClickFunnels offers to its users since it allows the user to test their sales funnels and get detailed analytics for it helping in determining which page performs better. This saves a lot of resources by telling us which page performs better and avoids the user wasting resources on poorly performing pages.
· E-mail List Building Tools
Building an e-mail list from scratch can be quite technical, time-consuming, and even expensive. But, making one on ClickFunnels using this tool makes it a lot easier through its easy-to-use interface and saves valuable resources which could be put in better use.
This feature allows the user to create opt-in e-mail funnels to gather valuable leads and their e-mail addresses. This in turn prevents the usage of third-party list-building tools.
· Follow-up Funnels
This feature is used to send follow-up e-mails to everyone in your e-mail list. This is a very smart and useful feature because it allows the user to create a new list or select a previous list for their follow-up e-mails. This also saves the user a lot of money which they otherwise spend on an e-mail autoresponder.
· E-mail Messenger
This feature gives the user the ability to create e-mail lists similar to how you would in any other e-mail automation software. It also enables the user to send out one-time e-mails without having to have a follow-up sequence in place. It also has a scheduling feature which gives the user complete control over the date and time that the e-mail is to be broadcasted to everyone in the list.
· Mobile Text Notifications
This is quite a straightforward process but very useful in nature. It works by integrating your account on ClickFunnels with a text messaging service account, and then, it can be used to broadcast messages to their potential customers.
service account the user will have the ability to set up their text messages through their ClickFunnels dashboard.
· Backpack
With the Backpack feature, the user can create a personal affiliate program for any funnel that have previously created. This is a fantastic feature that allows the user to affiliate pages, affiliate ids, track pixels and add a code to every page.
It also gives the user the option to manage their affiliate program by letting them
Create personalised commission plans
Create two-tier commission plans
Add affiliates of various types.
It is one of the better ways to start and manage an affiliate program.
· Affiliate Sales Dashboard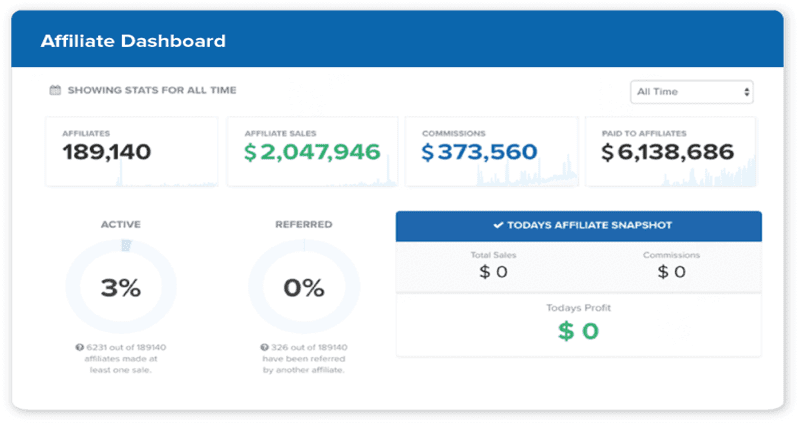 This feature helps you in managing your affiliate program more easily and efficiently. The sales dashboard will give you all the detailed information you need to know how the program is performing and also aids in tracking the program's sales and revenue generation. It has an in-built tracking system
that'll give the user all the important details and statistics of the program.
· Sticky Cookies
This is an excellent feature that ClickFunnels provides to its users because this is a great way keeping the affiliates happy and keep their morale up. This is possible because this feature allows the user to offer incentives in the form of bonus commissions to their affiliates if a customer buys additional products afterwards.
· Sales Analytics
This is very important feature as it provides the user with a detailed statistical report of their sales and helps them in keeping track of them and determine which part of their funnel is generating the most revenue. The users get detailed statistics like EPC; earning-per-click, gross sales, the average cart
value, etc. The user will also be able to see all the revenue generated from all parts of the funnel.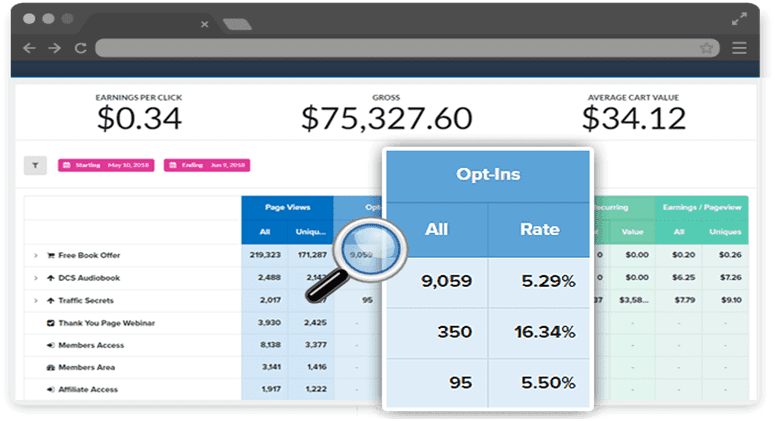 · Pre-Built Funnel Templates
ClickFunnels has a whole lot of variation in their different marketing and sales funnels. This is one of the features that makes ClickFunnels worth it, by already giving the user so many pre-built templates for different funnels, industries or even the different pages in the user's sales funnel. There are various free and paid templates to choose from and then further tweak to the user's preference and needs.
· Share Funnels
This is the feature that is making a large number of people try ClickFunnels, this feature allows a user to share their ENTIRE funnel with another user who can then duplicate the funnel and use it themselves. Another great about this feature is that if a user shares their funnel with other users and if they sign up to ClickFunnels through the share funnel page, the user who shared the funnel
will earn affiliate commissions which makes it a great way to gain extra
revenue through the user's funnel.
· Connect Multiple Domains
This feature gives the user the ability to have their funnels work on different domains. ClickFunnels gives you the option to either it buy from them for
$20/a year or even just link their domain which might've been purchased outside of ClickFunnels. If you have the Platinum ClickFunnels plan, you also get the opportunity to link multiple domains. This makes it a lot easier for the user to host webinars or host offers straight from their website instead of paying extra for themes and premium plug-ins.
· Payment Gateways Integration
This feature allows you to integrate multiple payment processing services. This is how the user is able to collect payments from their customers. The number of payment gateways the user can integrate depends on the plan that the user is on; the Standard Plan offers 3 payment processing services while the Platinum Plan offers up to 9, and the Comma Club members can integrate a number of different payment gateway alternatives, 27 precisely.
· FunnelFlix Program
This is by far one of the best features that ClickFunnels offers to its users and that too as a bonus on top of the excellent features that ClickFunnels offers. Everyone that has a paid ClickFunnels subscription has access to this for absolutely no cost. It is essentially an OTT platform but for training courses on sales, sales funnels, personal development, marketing and much more. All the training courses are divided into 7 categories:
Traffic
Personal Development
Product Development
QuickStart
Funnel Building
Business Strategy
Copywriting/Sales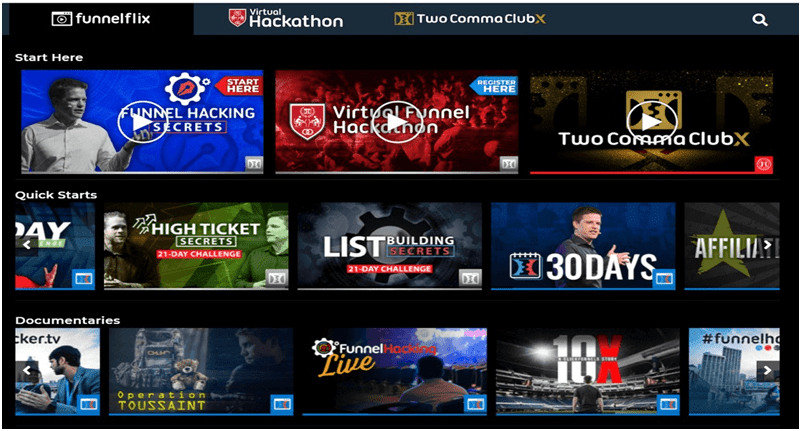 As per the pricing plans are concerned, ClickFunnels has 2 main plans to consider. The Standard pricing plan costs $97/month and offers 20 sales funnels, 100 landing pages, 3 domains. The Platinum pricing plan on the other hand, offers unlimited funnels, unlimited landing pages and 9 domains, which costs you $297/month.
The main differing factors are the custom domain names, the number of landing pages, funnels and the other features are allocated.
There is also a very exclusive Two Comma Club which is for the advanced ClickFunnels users who have earned a revenue of at least $1,00,000 through their funnels. You also need to get a special invitation to be a part of club.
Now that we've looked at the features of ClickFunnels, let's look at the pros and cons and see if it's actually worth it.
Some of the PROS of ClickFunnels are:
It is super easy to make a great funnel workflow and what makes it even convenient is the fact that, it is very flexible allowing a user to make edits to their website freely and at their own will.
A huge array of great pre-built templates already available which can also be tweaked to the user's preference and need. Apart from this ClickFunnels also puts out new features consistently for the better experience of the user.
ClickFunnels offers a 14-day free-trial and even offers a number of excellent training courses for everyone who is new to ClickFunnels.
Thanks to the number of great features that ClickFunnels offers, it is a lot easier and more convenient for users to integrate their businesses into e-mail building lists, text messaging service sources and even payment gateways.
The user has complete control over every single step of their funnel. ClickFunnels gives its users the option to RE-VAMP their sales procedure and completely automate it according to the user, their preference and need. The added bonus of this whole process is the fact that, ClickFunnels makes it easy and saves a lot of resources for the user whether it be in the form of money, which the user would've otherwise spent on hiring web designers and IT specialist, or in the form of time, which the user can avoid by using ClickFunnels and design or re-design their website with low to minimal effort.
Now that we've spoken about the pros of using ClickFunnels let's talk about a
few of the CONS as well.
Even though ClickFunnels offers an excellent array of features built to help the user in their experience and growing their business, it is quite expensive. Lead Pages is a lot cheaper than ClickFunnels and works in a very similar fashion to it.
On the Standard Pricing Plan, the accessibility, and the reach that a user can get is very limited due to the number of funnels. To get access to unlimited number of funnels and other features, the user has to pay even more and get the Platinum Pricing Plan.
Regardless of how easy and convenient ClickFunnels makes it for a user, it can a very overwhelming to use at first. It takes a bit of time to learn and get used to all the features and the user interface. This is also a reason why a number of marketers decide to hire professionals to manage their ClickFunnels account.
We can see why people are inclined to use ClickFunnels to grow their business and sales, but how does it do in comparison to its competition?
While ClickFunnels offers large variety of features with a high cost, Leadpages (a landing page builder) primarily works as a landing page building tool for marketers at a much lower cost but does not offer the variety of features offered by ClickFunnels. Both Leadpages and ClickFunnels uses a drag and drop feature to create landing pages. While Leadpages offers a more simplistic user experience with limited customisation, ClickFunnels on the other hand offers more customisation and tweaking corresponding to the users preferences.
If we look at the pricing plans of both, we can see that Leadpages offers a 3- tiered pricing model with Standard, Pro and Advanced. The Standard pricing model is offered at $17 per month if a user purchases it for two years upfront,
$25 per month if they purchase it annually and $37 per month for monthly billing arrangement. The Pro pricing model is offered at $42 per month if it is bought for 2 years upfront, $48 per month if purchased annually and $79 per month if the user wants a monthly billing system. The Advanced pricing model is offered at $199 for it to be billed annually and $159 for a 2-year billing cycle. ClickFunnels is offers 2 main pricing plans; the Standard and the Platinum, which are $97 and $297 per month respectively.
While using Leadpages, the user must have an existing e-mail marketing service in place, while on the other hand ClickFunnels does not require the user to have an existing e-mail marketing system and assists the user in creating an e-mail list conveniently.
Leadpages even though quite cheap in comparison to ClickFunnels does not offer the anywhere near the number of features that ClickFunnels offers to its users, and does not even offer a free trial for the user to see if they would be comfortable using Leadpages. ClickFunnels does offer a 14-day free trial to all its users along with more features.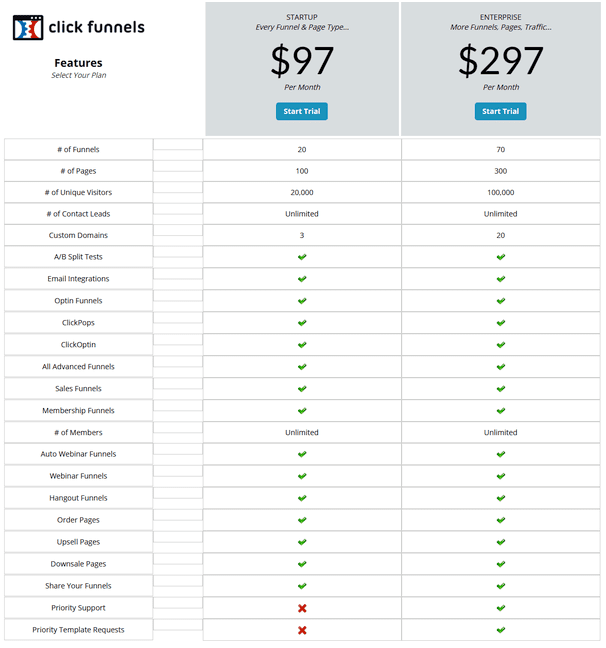 All in all, even though ClickFunnels is an expensive investment to make, it is absolutely worth all the money. It offers a number of features and when used in tandem together, it makes for an excellent user experience, and with its proven conversion rate, it represents total Value for Money. It is very useful for someone who is looking for ways to grow and optimise their sales. Even if the user does not possess a lot of technical knowledge or resources, ClickFunnels makes it convenient and efficient for all its users. I would 100% recommend ClickFunnels to everyone who is currently looking to optimise their sales and make a complete and working funnel network, hassle free.