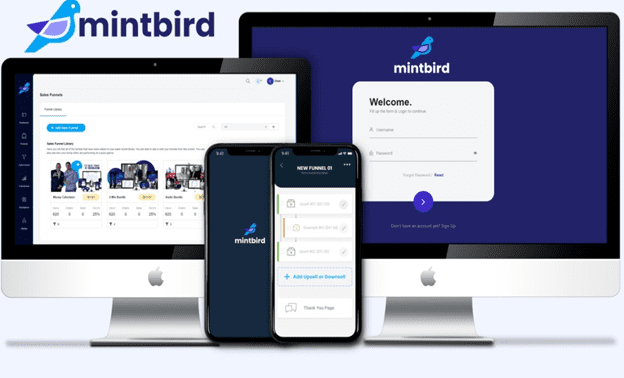 In this article, we will be viewing and discussing about the brand new software; MintBird. What exactly is MintBird? MintBird is a newly launched revolutionary platform used primarily for sales funnel creation purposes. Just like any other funnel creation software, MintBird is fast and easy to use and comes with multiple excellent templates and designs. But what really sets MintBird apart from other funnel creation software is the fact that the account is accessible through your mobile phone. Yes, you heard that right, all the amazing features that usually come with such software along with the accessibility through a mobile phone.
Who Created MintBird?
MintBird is a software that was developed by Chad Nicely and Perry Belcher, both of them are very well-known and respected affiliate marketers and Jvzoo vendors. They are predominantly known for creations which have aided numerous online businesses in preventing losses. They are also running a million dollar company which specialises in product launches of such stature and magnitude.
Is It Really That Useful?
In today's competent market, creating your own product and then selling it online is getting tougher by every passing day. In such challenging and difficult times where small online businesses are very prone to taking losses, MintBird helps these struggling business and through their various pre-made templates and designs helps users to create effective and efficient sales funnel to boost their sales. It is a game-changing software for eCommerce based businesses and online businesses as well.
Now that we have discussed about MintBird and understood how it came into existence, let's look at its features in terms of what it offers.
MintBird Features
MintBird is a very unique platform and is quite revolutionary in the way that it is a product library based funnel building system, allowing you to build sales funnels in just a couple of minutes. MintBird is the only sales funnel building system that is product library based, giving MintBird a slight over edge over its competitors. All of your product libraries can be found easily on MintBird. Along with this, it also offers a wide variety of choice in terms of customisation when creating something. Whether it's a cart order form or upsells and downsells, everything can be easily created and edited according to your personal preference and needs. Coupon codes can also be created and edited quickly and with ease as well. Another very fascinating feature offered is the ability to setup your split testing for multiple offers.
The upsell and downsell library is another feature worth talking about since it is one of the better ones that Mintbird offers. The upsell and downsell feature allows you to create your offers separately in the same tunnel. This allows the easy editing of upsell and downsells along with the ability to track all your conversions made through the particular funnel. All the upsells and downsells can be viewed in the library. This feature also enables you to sell their upsell or downsell according to their preference by giving you the choice to sell them as stand-alone products.
What Are MintBird's Other Features?
1. Sales Funnel Creation
MintBird enables the user to build sales funnels without much hassle and within a couple of minutes as well. The pre-made templates and exquisite designs aid massively in converting visitors into customers. It boosts sales and revenue in a very positive and effective manner. The MintBird sales funnel feature comes with its own added micro-features. All the made funnels can be viewed in the funnels library and this also allows for them to be edited easily if ever required. It gives us all the statistics regarding the funnel, from conversion rates to sales numbers. The tracking of your sales funnel becomes a lot easier through MintBird's sales funnel feature. Creating the funnels are also very simplistic yet efficient and effective. The ability to create sales funnels by just clicking and dragging your mouse makes your life so much easier and it takes just a few minutes as well. It also allows you to use their pre-made upsell templates to deploy in your own sales funnels, and along with this they also offer you the choice to deploy your funnels on your own webpages using their funnel script. All these excellent features really make for an easy and hassle free experience for users.
2. Bump Offer Library
This feature allows users to create not just one, but multiple bump offers in just a single order form. The bump offer library stores and contains all the user's bump offers. They can be easily viewed and edited through the library and a special feature called "simple editor" allows users to completely customise how their bump offer looks. This feature also allows you to setup the delivery of the user's bump offer according to their preference. Tracking the bump offers made by the user is also quite simple as the live statistics of all their bump offers and its performance across all their funnels is easily available to the user.
3. Excellent And Responsive Order Forms
MintBird also offers you the ability to create order forms which are completely customisable according to your preference. It also offers you the choice between many pre-made templates which are all specially designed by the design team working for them. These order forms really boost your conversion rates massively on your check-out pages.
Along with these features, MintBird also offers:
Timed Funnels
Tags To Trigger Upsell Behaviour
Cryptocurrency
Advanced Automation and Additional Integrations
All the features mentioned above help in growing your company through sales funnels and in reality, makes it a lot easier for small businesses operating online and other businesses based on eCommerce.
Now that we have discussed about MintBird and its features in a more detailed manner, let's talk about what is MintBird's targeted audience and whom it would be most beneficial to.
MintBird is a software that a lot of industries will integrate in their businesses solely because of how easy it makes to boost your conversion rates and sales. Anybody who identifies themselves as an e-commerce operator or an e-cart manager should most definitely try this software. Even online vendors, online businessmen and affiliate marketers among many other professionals should try and utilise this revolutionary software. Just like any other software, MintBird too comes with its list of pros and cons, so let's have a look and see if it's actually worth it.
Pros
MintBird is a sales funnel builder that uses state-of-the-art, cutting edge technology.
It is super easy to use and set up as well.
It is user friendly and is a software that is beneficial in a vast variety of fields, meaning many people would be using it.
It comes with step by step training to help users.
It even has an efficient and reliable customer support.
Cons
Getting in touch with customer support is necessary for any problems related to MintBird.
The price of the product will increase with every passing day after launch.
A fast and stable internet connection is required to run and use MintBird.
Pricing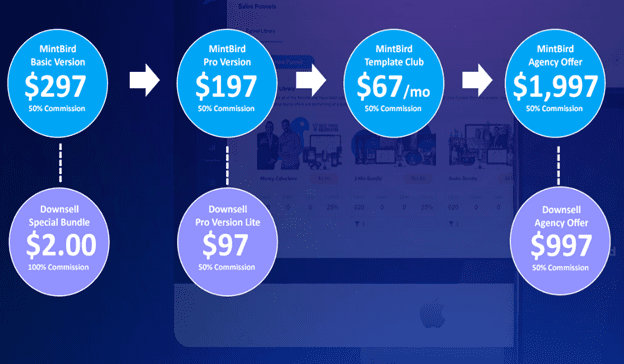 It is quite decently priced but in my opinion, absolutely worth every single penny. The growth potential of your company with the help of this software is huge. With the amount of customisation possible in every step of the sales funnel creation along with the fact that MintBird is accessible through your mobile phone is revolutionary and in my mind, it gives MintBird the edge over its competitors. All in all, it is a highly useful software released this year by developers Chad Nicely and Perry Belcher, helping small businesses operated online and other e-commerce based businesses in boosting sales and conversion rates and preventing losses.