What exactly is e-commerce?
E-commerce as we know it today is the buying and selling of goods and services via the internet.
E-commerce has already had a massive impact on today's world, and yet, it is a mere sapling with a huge scope of growing into a tree. Digitisation has helped e-commerce to thrive like it is thriving right now. This has also made it much more difficult for a physical shop to succeed in the real world because the internet has driven all the audience to online shopping and has massively aided in growing e-commerce to the place it is today. The growth has been huge with global e-commerce sales being estimated at a whopping $27 trillion by 2020. Having a business module based on e-commerce in today's world can be very challenging at times and to do well can be tricky, but, I am here to give you a few tips to improve your marketing strategy which will in turn boost your sales.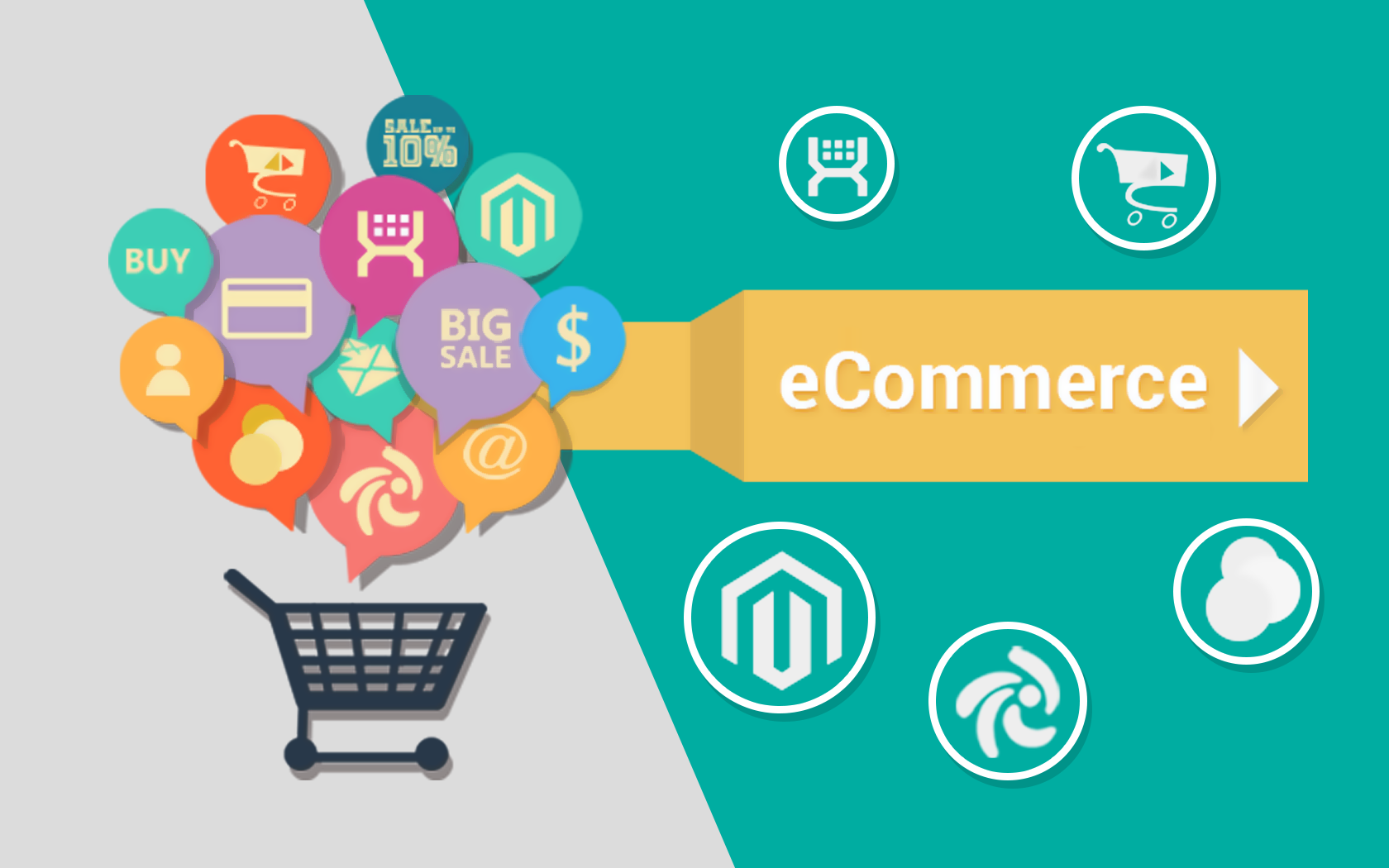 How To Boost Your E-commerce Sales
1. Utilizing multiple communication channels
In today's world, heavy web-traffic will not come your way just by promoting on your website. You need to be in as many communication channels to have a higher chance to succeed because it gives you a much higher chance of being discovered by new customers who are interested in your p
2. Customer Research
When you aren't aware of your ideal customer and the demographics of the target market, you are at a disadvantage when it comes to marketing and promoting your product.
For this very purpose, you can track such information online and understand the market segment most likely to buy from you. Tools that'll help you with customer research are:
Google analytics- this tool will enable you to see a host of information about your website traffic, where visitors are located and how people are finding your site.
Google webmaster tools: you should set up this tool because it allows you to see the keywords people are using to find your website.
Google trends: all you have to do is search for your products and services on this tool to find out who is searching for those particular items and related terms that can be added to your marketing strategies.
Facebook ads- Facebook ads uses its lookalike audience feature to target an audience of the same characteristics as your page's following audience. This way it makes sure that your ideal customer is seeing your ads.
3. Create a seamless Shopping Experience
It is extremely important to provide your target market a seamless shopping experience to ensure conversion of viewers into becoming your customers; Increasing e-sales isn't just about getting them to view your website anymore.
You have to optimise features on your website so that prospective customers can navigate their way to what they're looking for. This calls for features such as a "search bar" so that the viewer is at ease and saves time to actually visit the products he wants.
The shopping process must be simple and easy to comprehend providing as many concise options of payments as possible whether it be through a credit card or different payment apps like PayPal, Apple pay etc. the instructions and manual for help must be easy to follow. An option to let viewers check in as guests rather than logging them in makes conversion rates even higher.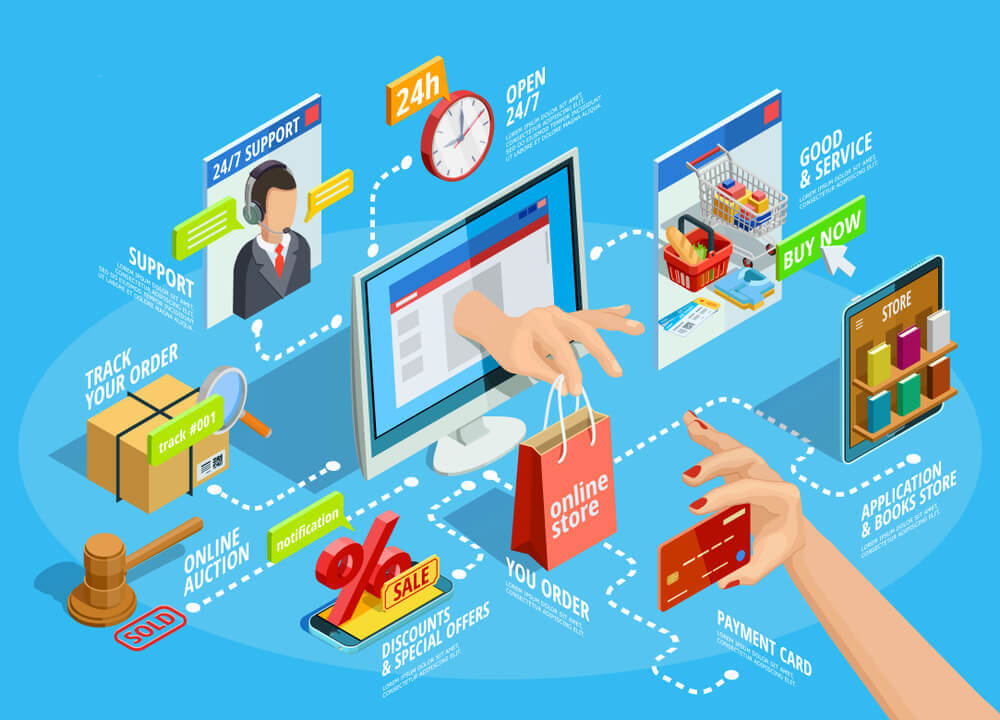 4. Analysing and Testing Strategies Devised
Initial strategies barely ever work out. Even if they do, there's always room for improvement. Which is why it is important to keep analysing and testing strategies to ensure that you are getting the most out of your e-store.
The following factors can be analysed:
Conversion rates of your ad campaigns – Recognize the
campaigns that are producing results and the ones that aren't. This can then be analysed to make adequate adjustments to the strategies that are not working as well or they can be scraped off to focus on the ones that are performing well enough and driving sales.
The conversation rates of your landing pages: are viewers of your website converting into customers or are they just
surfing by? The numbers can be checked to see how the
landing page can be improved to help drive sales.
• Cart abandonment- if the number of people that leave their shopping process limited to just adding items to cart and not going ahead, then that probably indicates a problem with the checkout process.
5. Analyse Your Competitors
There are probably a lot of competitors in your field who are already selling online and succeeding. It's a good idea to observe what they're doing to see if you can copy any of their tactics.
Do a google search for more similar items. Go through the buying process to get a sense of what it's like. Is there anything they're doing differently than you? Are there any elements on their site that you'd like to incorporate into your own? Even better, if you have access to a competition intelligence service such as Ahrefs, SEMrush, or Bozzumo, you can find out who your nearest competitors are.
6. Increase the Number of E-mail Subscribers
E-mail marketing is one of the most cost-effective platforms for generating sales and converting consumers. According to a 2015 report by Forrester Research, e-mail accounts for roughly 17% of digital marketing spend yet generates 24% of revenue.
But, an e-mail can provide a more personal experience that can be customized specially for your customers. People are still more guarded about messages sent to their personal inboxes than they are about messages sent to their social feeds. Plus, e-mails allow you to convey things that you wouldn't be able to say in a social network post. To get started with email marketing, advertise your newsletter as much as possible.
7. Make the Most of User-generated Material
User-generated content (UGC) is an excellent source to serve as a social proof. When potential buyers realise that people just like them buy your products on a regular basis, they'll be more likely to do so as well.
Consumers are more likely to believe information from online reviews and peer recommendations than to just trust a brand itself.
UGC can take a variety of forms. Even product reviews are considered UGC. Pictures of consumers using your items are one of the most powerful sorts of UGC.
Implementing a reward system for long-term customers.
Increasing online sales by focusing on customer retention is a cost-effective strategy.
A customer loyalty programme is one approach to reward loyal consumers and high spenders. A loyalty programme can benefit both your consumers and you in a variety of ways. They give customers an added reason to buy, and they keep your brand in front of customers' minds with automatic reminders.
You decide how you reward clients, how often they are rewarded, and for what behaviours they are rewarded. For example, you may have a point-based programme with its own currency that can be redeemed for discounts, free delivery, or free gifts.
8. Optimize For Mobile
By 2021, more than half of all online shopping is expected to happen on mobile devices, according to Statista. Optimizing your store for mobile means more than having a responsive design. It means you're designing your site with mobile visitors in mind from start to finish.
Perhaps you have a bigger add to cart button on all mobile product pages, making it easier for the visitor to add to cart without zooming in, for example. You might also present your images in a different format, making it faster for mobile visitors to load product photos and easier to zoom in.
9. Begin a Content Marketing Campaign
Every ecommerce store should consider blogging on a regular basis to stay in touch with customers and improve their search engine rankings. Consider promoting your blog on your online store if you're already providing content.
Don't forget that content marketing may be used in more ways than just blogging it could be something like :
Starting a podcast to showcase your expertise or to strengthen your community.
Collaboration posts on other websites and blogs to raise visibility and gain backlinks, both of which are beneficial to SEO.
Creating long-form content and tutorials to assist clients get the most out of your products.
10. Upsell Your Product
"Would you like to supersize your order?" is a phrase we've all heard at some point. It's an example of upselling, or selling a somewhat more expensive product than the one the consumer was considering initially.
Upselling can be more effective than gaining a net new customer for many firms. Your clients may not be aware that a premium product is available, or they may require additional evidence to see how an upgrade (or bundle) is a better fit for their needs.
Is one of your product models, for example, made of somewhat superior leather? Or does one have a one-of-a-kind handmade component? Make sure to underline the difference and inquire if the customer would like to upgrade in the appropriate locations.
When employing upselling to boost sales, there are two things to keep in mind:
Ascertain that your upsells are relevant to the original product. Pay attention to your consumers' expected pricing range.
Your product must meet the customer's original needs, and once they have an anchor price in mind, they may not be enthused about a higher price point. A customer's anchor price is frequently the first figure they see, and it's the amount they use to compare other price points. For the extra expense to be justified, the new product must have a noticeably better fit than the original.
11. Integrate Instagram
Instagram is one of the fastest growing social media platforms, with over 500 million daily active users connecting consumers, influencers, and marketers.
You're well on your way to creating a significant Instagram following of individuals who are interested in your items if you take captivating photographs, use hashtags effectively, and post at the proper times. Engagement with your followers is the key to mastering your organic Instagram presence.
What are some methods to interact with your Instagram followers? To promote your product development process, you may hold contests or go behind the scenes. On Instagram, you may also pay to play.
12. Send Wish List Reminder E-mails
The wish list reminder email is a form of email to add to your arsenal of ecommerce marketing ideas. The abandoned cart email and the wish list reminder email are very similar. Both are intended to persuade customers to complete the purchase of things for which they have expressed an interest.
Hasn't anyone checked in on their wish list in a while? Have a sale item that's been added to a lot of wish lists? Is it on the verge of going out of business? Send an email to your customers to let them know.
It could be the final push they need to acquire the item. This encourages customers to buy and reduces regret—no one wants to lose out on a product they've been eyeing.
13. Make Personalisation a Priority
Another excellent marketing strategy for increasing online sales is personalization. Personalized experiences are offered to visitors based on their past activities and interests, using behavioural data.
You may also use personalisation to account for location to provide an experience that is tailored to your client's location. In October, someone in southern California might be seeking for swimming suits, but your Maine consumers are likely looking for outerwear, for example. In simpler words, boosting your sales on e-commerce through these mediums is extremely important for a business to succeed because e-commerce is the future and still has so much more potential for growth. And, if you are struggling to boost your e-commerce sales, I hope this article proves helpful in improving sales by devising a marketing strategy integrating the tips mentioned above.
You May Also Like