Plugins are software that contains a group of features that you can add to your WordPress website. You can extend the functionality or add new features to your WordPress website.
The WordPress plugin is written in the PHP programming language and can be seamlessly integrated into WordPress. There is a saying in the WordPress community that "there is a plugin for that". This makes it easy for users to add functionality to their website without knowing a single line of code.
Thousands of WordPress plugins are available for free in the official WordPress Plugins directory. In this article, I am going to share a list of all the plugins I use.
It's important to note that most plugins are free and usually do not include technical support. For this reason, be careful when choosing what to install on your site. There are plugins out there that can do the job you want, but some are of higher quality than others. To choose the right one, you need to ask yourself some questions.
Top 5 WordPress Plugins for SEO
1. Yoast SEO Plugin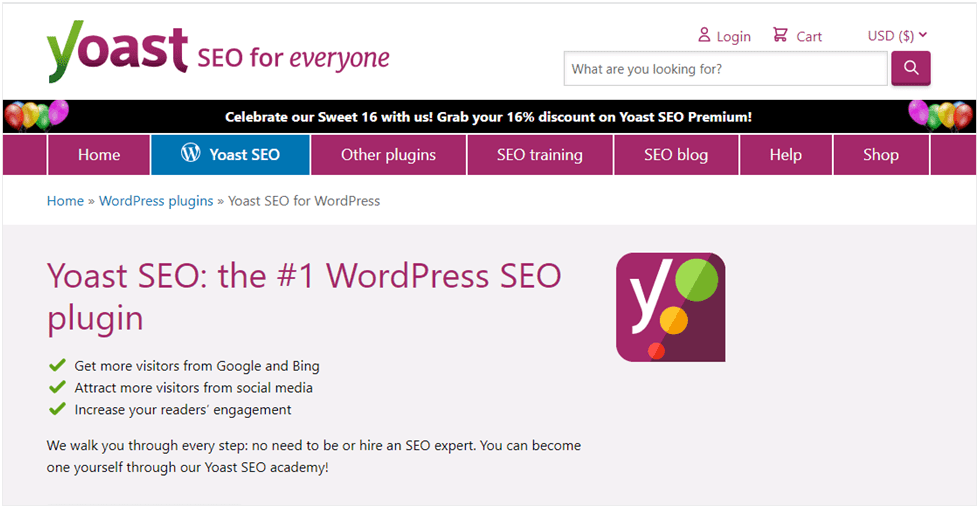 Yoast SEO is one of the most popular and highly recommended SEO plugins for WordPress users. You can get more organic traffic from Google, Bing, and other search engines by installing the Yoast SEO plugin on your WordPress site or blog. You can also attract more visitors from social media. It also helps improve readability and increase reader engagement. Check out Yoast's SEO features.
Features:
Content and SEO analysis features will help you check blog post readability and provide you with SEO improvements.
Internal link tracking.
The Redirection Tool allows you to perform 301 redirects so that users redirected to one page can be redirected directly to another selected page.
Create legitimate URLs to avoid content duplication and Google penalties.
Google search console integration.
You can edit/add custom snippets of what Google sees when it appears on search engine results pages.
Supports the addition of one focus to the content.
Automatically generate an XML sitemap of all content to make it easy for search engines to crawl your WordPress site.
Customize your site's bread crumbs to facilitate navigation and indexing.
You can add Open Graph metadata and social media images to your articles.
2. All In One SEO Plugin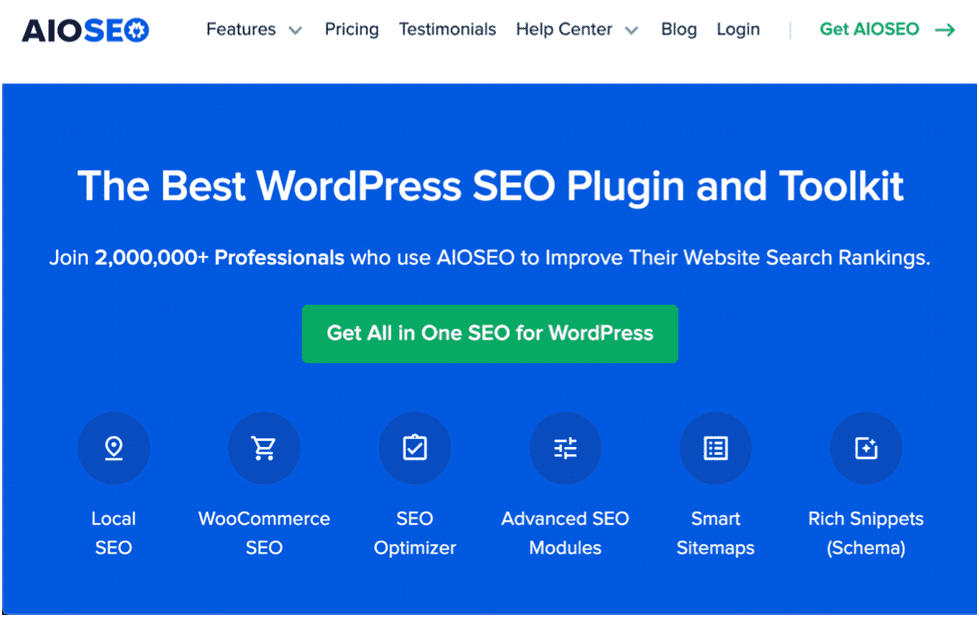 All in One SEO is among the best WordPress SEO plugins available on the market. With over 2 million active installs, it is the most popular SEO plugin among WordPress users. Since 2007, they have been helping users improve their website's search engine rankings without hiring a search engine optimization expert. This plugin has many useful features that other WordPress SEO plugins do not have. Check out all SEO features.
Features:
Used by millions of users to organically increase web traffic.
Powerful free version.
Automatically generate XML sitemaps for submission to search engines, indexing your site and making it appear in search results.
Built-in social media integration.
The Easytouse Customization Wizard allows you to customize your SEO.
Run SEO status check.
Use dynamic values for SEO titles and descriptions.
Page analysis with actionable checklists for optimizing your posts and pages.
Add meta captions, keywords, and descriptions to optimize your page
Find related and additional keywords that can be ranked using the
SEMRush integration.
WooCommerce Ecommerce SEO Tool helps you optimize your store for better ranking.
3. Rank Math SEO Plugin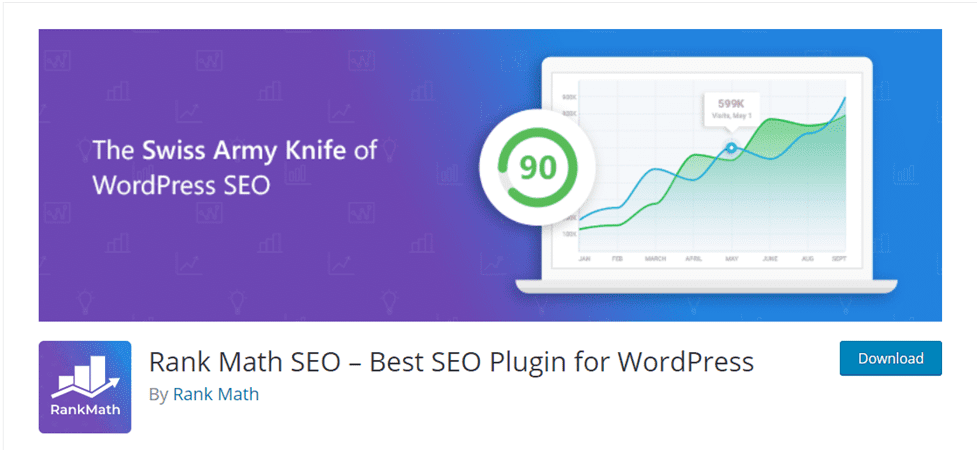 Rank Math SEO is a powerful solution that helps users optimize their website for Google and other search engines. This SEO plugin allows you to optimize your site. You can optimize for social networks like Facebook and Twitter. It has useful features like Google Search Console integration, redirects, rich snippet markup, and more.
Rank Math SEO has become one of the fastest growing SEO plugins with over 700k active installations. Rank Math SEO gives you full control over how you want your website to appear in the search results.
Features:
You can add meta titles, descriptions, and Open Graph metadata to your content very easily
Generate an XML site map.
Rank Math also integrates with Google Search Console.
Set up user roles for who can do what.
Easy-to-use setup wizard.
Idle for beginners.
4. MonsterInsights SEO Plugin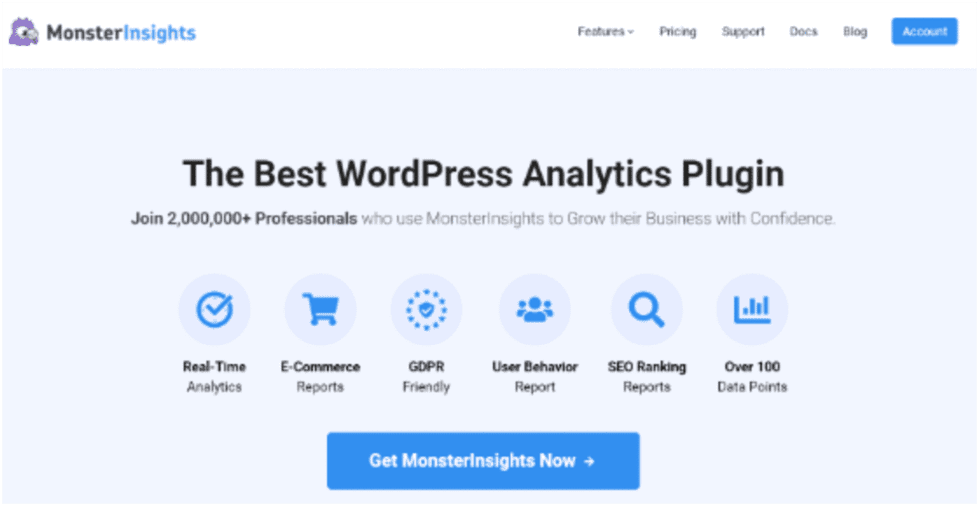 This WordPress SEO plugin presents Google Analytics data in a dashboard with a user-friendly interface. You can know exactly how people browse and interact with your website. It also has a content reporting feature that allows you to track which pages your site's potential customers visit the most.
MonsterInsight is easier to use compared to other plugins. This makes it easier to collect and interpret data without logging into your Google Analytics account.
Features:
Easy-to-read analytics reports on your WordPress dashboard.
Use Google Search Console and perform keyword research
You can analyze where your users are. You can find where they are coming from, what your top content is, where users go on your website, etc.
See your eCommerce SEO performance.
Regular reports on your mobile traffic with Google AMP.
Find out which outbound links are performing well
5. SEMRush SEO Plugin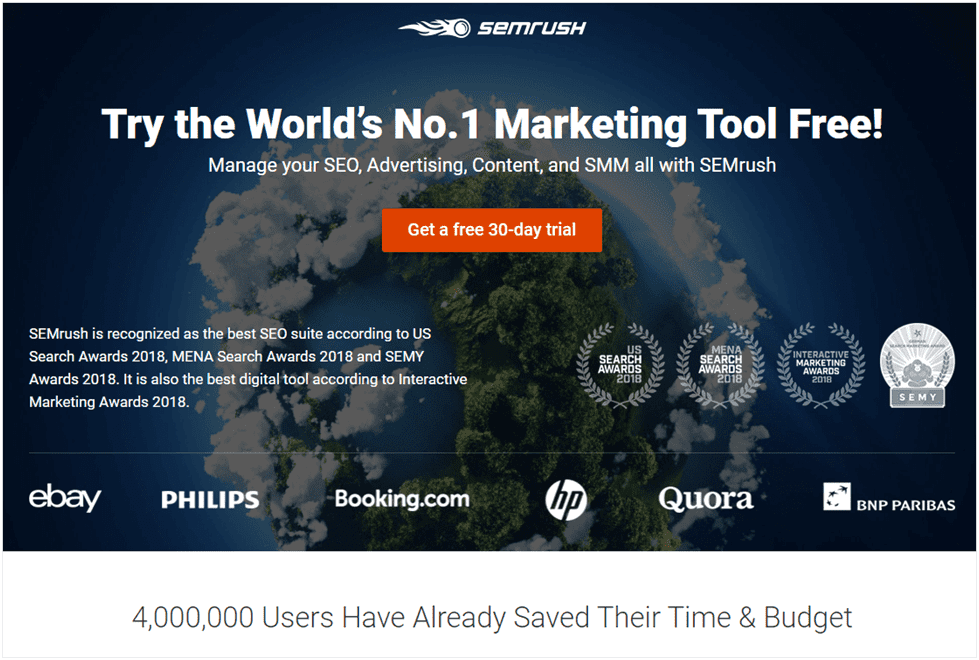 SEMrush is a great all-around tool for anyone interested in optimizing their online content. The plugin guides you through the entire content creation process, from keyword research to generating SEO-optimized text.
SEMrush is especially useful for identifying keywords. The system makes it easy to find popular phrases, identify new trends, and see keywords used by competitors. Once these keywords are identified, the plugin incorporates them into your content to help you win the competition.
Features:
OnPage SEO Checker helps you improve your content marketing quickly by checking the details of various pages and posts.
Scan your dead links using the broken link checker. All you have to do is perform a scan.
Search for the highest-ranking keywords and work, outrank your rivals.
Analyze keywords for search volume and plan your content accordingly
You can know which keywords to add to boost your website rankings.
Build an outline for your posts by running a keyword through SEMRush and getting content suggestions.
Conclusion
There are many reputed WordPress SEO plugins available. So, when you have too many choices, choosing the best could be difficult for anyone. In this article, we have tried to help you learn more about some of the best SEO plugins for your WordPress site. After extensive research, we have chosen the top 5 WordPress SEO plugins for you that will help you optimize your website for search engines and improve your search ranking. Hope you liked this article and found what you came for.