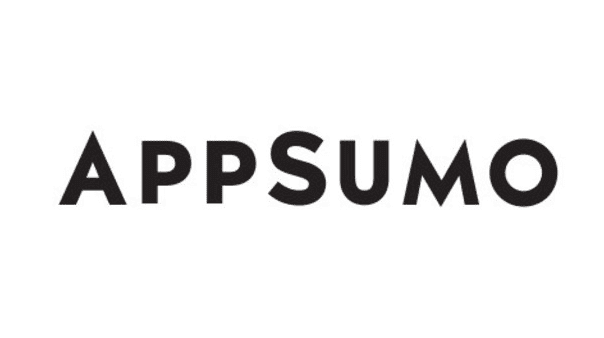 What is AppSumo? How Does AppSumo Work?
In general words, AppSumo is a site with daily deals that are designed specifically for digitally delivered goods and services. Think Groupon, but include B2B engagement.
There are two ways to use AppSumo
Companies that sell digital products or services can partner with AppSumo to offer their products or services at a significantly discounted price to attract more customers, try their products and potentially become loyal customers.
Entrepreneurs, on the other hand, may search the various offers available on the site to find inexpensive and sometimes free products or services that can help them grow their business. You can use things like video editing services, project management systems, and social media tools.

AppSumo first started in 2011, established by serial entrepreneur Noah Kagan (who's also behind software tools Sumo and KingSumo). David Garland shares how Kagan built the business for $50 in a weekend — it became a million dollar plus business less than two years later. AppSumo has turned into a growth hacking engine for many of the businesses who run a lifetime deal on the marketplace.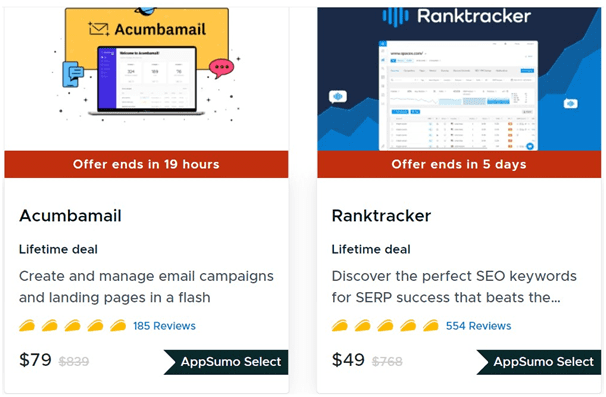 Here is a picture of the current deals AppSumo is offering
Who is AppSumo Made for
Most of the software offerings offered are aimed at small business owners, so be sure to check it out if you run your own blog, freelance writer, designer, digital business, etc.
The types of software I see on there all the time are:
SEO tools
Email marketing tools
Writing tools
Image tools
Video tools
Content tools
Analytics tools and much more
Why Choose AppSumo? (Tips and Tricks)
Here are some benefits to help you learn about the advantages of AppSumo:
Get credits for various media assets.
One of the most popular AppSumo deals every year is for DepositPhotos. Claiming that they'll raise the price next time it runs, DepositPhotos' last AppSumo deal was $49 for 100 image credits. They recently started a new deal with AppSumo in 2018, but are focusing on stock video. This was a real steal for restocking (pun intended), as pay-per-view credits for stock photos typically start at $1 per image. Using only free photo sites can mean limited options, and sometimes it's easy to figure out what those photos are. In other words, you as a content creator will jump into this when AppSumo offers a comprehensive library of generic content materials.
2. Seek Unbiased Reviews
The countdown begins as soon as new AppSumo deals go into effect. The best deals sell out, but none of them end up going their own way, so you can't spend too much time making decisions. Fear of missing out (FOMO) emerges quickly and quickly as the lifelong trading fan community begins to debate the pros and cons of a particular trade.
But there are rumors that AppSumo's review section is, um, moderated a bit more than expected. To be honest, when a company website makes sense, you should always expect it to weigh in your favor.
This does not mean that the site's AppSumo reviews are not informative. The point is that you should consider both the most positive and the most negative reviews before making a decision.
3. Audit Your Existing Software Tools
AppSumo understands its customer base with a mix of privately owned, small teams, and some agencies. It seems reasonable to assume that the average small business would prefer to do most of the trades based on the inevitably needed features.
By the way, in AppSumo, some of the same types of transactions happen close to each other. You tend to start a different kind of FOMO than buying a single trade and then watching the highs hit the market.
So, before you break the legacy workflows and tools you already use well, ask yourself if you really need this shiny novelty. Are you innovative enough to add to your tech stack?
I made the mistake of immersing myself in the ideas behind Knowlocker. Knowlocker thought it could be useful for storing and providing documentation for onboarding and training contractors. After spending some time using this tool, I went back to the Google Sites website, which provides the old solution, Secure User Permissions.
4. Refund Policy and Low Risk
It's worth mentioning now that AppSumo has a generous 60 day refund period with a self-service refund process. You can test drive a new software tool for up to 2 months with the option to refund at any point during that time. Because of AppSumo's ridiculously low deal prices and this risk-free refund process, the risk for investing in AppSumo deals is very low. That's one of the most important takeaways of my AppSumo review.
5. Check Lifetime Deal's Product Roadmap
Many companies seem to be using AppSumo to raise the necessary funds instead of traditional venture capital investments. For enterprising consumers, this can prove to be a valuable tool they use every day, providing a one-time opportunity to eliminate future subscription payments.
Understand that the real value of the featured Deal may be due to certain features that won't be released for months. Stay tuned for useful features. However, buying a lifetime deal and waiting for a specific feature means there will be no future returns.
Yes, some lifetime deals are for companies that go bankrupt quickly, and sometimes the terms of the deal change unexpectedly (despite what they promised during AppSumo's initial launch). This is a rare situation, but worth mentioning as a risk for those who spend a lot of time exploring new software tools.
6. Lifetime Deal Integrates with Other Favorite Tools
Integration can reduce the time it takes to complete various business processes. Before you buy a new lifetime deal, check which tool integrations exist and which are on your product roadmap.
This is usually a good signal if the instrument is connected to Zapier. Many applications can seamlessly connect to each other here (additional settings available). Explore the backups and triggers available for your favorite tools when evaluating lifetime deals.
7. Be Sure
Even if you're saving money, learning a new tool and configuring it for your business needs is still time and mental energy you take away from other tasks.
Before buying a new lifetime, ask yourself:
How will this improve my existing workflow or make it easier in some way?
Do I have a genuine use case for this or do I anticipate one in the near future?
Does this tool actually work for my intended purposes?
Can I afford enough codes to grant enough access for my entire team?
If a lifetime deal in question is for a collaboration tool, this is an especially important consideration.
Why do Companies Offer their Products on AppSumo
Some of you may be wondering why a software company would even offer their product on AppSumo in the first place. Why sell your product for a heavily discounted lifetime deal, when you could charge monthly for it and have a healthy recurring revenue.
The answer to this is pretty simple. AppSumo offers the potential to acquire a lot of customers and therefore revenue in a very short period of time. AppSumo gives companies access to over 1m registered users, a huge email list, 4,000 affiliates etc. Basically, it's a marketing machine that a company can leverage to launch their product.
What are AppSumo Plus and AppSumo Briefcase?
When you start using AppSumo, you will see something called AppSumo Plus. By paying $99 per year, you get 10% off all purchases, as well as early and late access to deals. For me, the price is not worth it as I don't buy that much software from AppSumo. I've spent about $600 on this in the last 12 months, which is quite a lot for me on average. You must spend at least $1,000 per year on the 10% offer. If so, you might want to take a look at AppSumo Plus.
In the case of AppSumo Briefcase, Pay $49 per month and get access to some of the best apps to growth hack your business. Everything is covered from design tools, productivity, sales and business development, video creation, social media marketing and even client management for freelancers and invoicing.
If you had the assurance that all the business tools your startup needed to scale quickly would only cost you $49 per month that would be a comforting thought in terms of financial planning and with AppSumo Briefcase it's possible.
Here are the exact tools included in BriefCase:
Paperform Essentials for Customer Insights
Poplink for lead generation
KingSumo Pro for giveaway contests
SalesFlare for sales pipe lining for your sales team
Book like a Boss for scheduling and meetings
Website Auditor for SEO
Grum for Instagram Marketing
Missinglettr for social media posting automation
Pros
You really can pick up some bargains that potentially save you thousands of dollars over time
The 60-day money-back guarantee is great
You'll often find some very innovative young products on there
Quite often I'll be paying for another piece of software but then see an equivalent come up on AppSumo, so I can switch and save
Cons
Compulsive Buying
Don't become an AppSumo junkie.
Overly Enthusiastic User Reviews
Startup Failure
Lack of Product Development
Final Thoughts
Overall I'm a big fan of the AppSumo Lifetime software deals concept. They have some awesome deals, you can save at least a few thousand dollars by now.
However, as I've pointed out in this article, you have to be very lucky with the deals. I always test it thoroughly for myself and I don't buy anything I don't really need.
AppSumo is a treasure trove of valuable deals for entrepreneurs. Like everything at risk, sometimes you win and sometimes you lose, but good investments can offset some bad investments by dispersing the inherent risk of buying a lifetime deal from an untested startup.
Stay in the loop about new lifetime deals by signing up for AppSumo's newsletter.