What is Spin Rewriter?
Spin Rewriter was launched for the first time in the year 2011 by Aaron Sustar. Spin Rewriter is a content spinning tool. It happens to be the world's only application with EML Semantic Spinning. With this unique feature Spin Rewriter will always be ahead of other rewriting tools. It makes sure that you will never have to worry about your articles not ranking high on Google. You will be able to create articles that rank high on Google in a matter of minutes. It's the cheapest out there.

Spin Rewriter continues to be among the top-performing and easy to use article spinners. A new version of Spin Rewriter is launched every year around October. This spin rewriter tool works with a variety of online marketers and content writers. It helps them produce an unlimited number of unique and high-quality texts and the best part is it only takes minutes to get the job done. Over the past 10 years, it has been used for different purposes by various online business owners and SEO experts.
Including:
Link building
Content spinning
Mass page sites
Content syndication and so on…
In this Spin Rewriter review, We will see what this tool offers, why it is better, how it works, and what are its pros & cons.
Why choose Spin Rewriter? How is it better over other rewriting tools?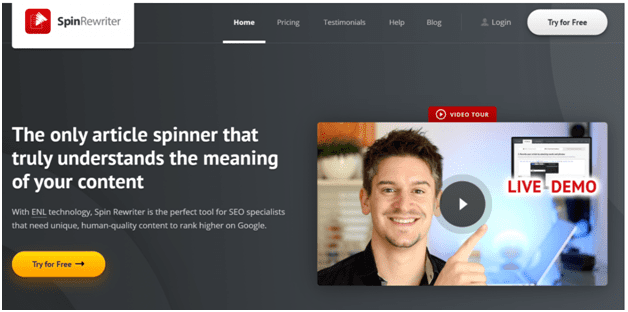 Spin Rewriter is a revolutionary powerful article spinner that uses ENL Semantic Spinning to understand the meaning of your text and produces unique content. Let's learn what ENL is.
ENL (Emulated Natural Language) technology. The ENL technology is able to create unique content that reads naturally. This technology enables it to understand and then replace the sentence or paragraph with synonyms that are appropriate for the target audience. You have little to nothing to worry about getting penalized by Google for duplicate content issues.

Why choose Spin Writer 12 over its previous versions?
Spin Writer 12 has new features and an improved version of Spin Rewriter every single year. The upcoming release of Spin Rewriter 12 on October 6th, 2021 (11AM East).The software offers 12+ tutorial videos that explain every feature. Its mobile version has also been upgraded so the users can have a good experience even on their mobile device.
Here are some points about the new Spin Writer 12 which i am looking forward to
Manual review of the synonym database
Improved user experience (UX)
A brand-new on-boarding process that guides our newest users by the hand, all the way to their first finished high-quality spun article.
A more powerful mobile version that includes the entire feature-set of the desktop version.
Expanded integration with free stock photo & video collections.
Support paragraph-level spinning
EUser-friendly:easy & Simple interface:
Understand the meaning of each word:
Bulk article spinning
Mass Export Feature
Video Tutorials
API integration
Who should use Spin Rewriter?
Content Writers : To save time
Marketers : To spin content and create new content
SEO experts : to build your PBN sites, Web 2.0s for your backlinks.
Students : For creative writing
Mass Page Builders : Generate pages fast and search engine friendly
PLR Content Resellers : Create exclusive PLR content
Affiliate Marketers : Create affiliate product reviews
Here's a list of Pros and Cons
Pros:
Option to post rewritten article to WordPress website
You can fetch photos & videos and insert them in rewritten articles.
Ability to integrate with many tools using API.
Money back guarantee if you change your mind or are not satisfied.
Affordable price compared to other article spinners.
Side-by-side comparison of original and spun text.
Grammar and spell check
User friendly with simple GUI
Works on all devices
All spintax styles
Copyscape integration
Guides
5-Day Free Trial: You get FULL access in 2 minutes — FREE!
FREE access to Site Guardian Pro
Database of 8 million YouTube videos
Generate Hundreds of High-Quality Articles For Backlinks
SEO Industry's First-Choice Spinner
Stock photo integration
Deep spinning
Sentence and paragraph-level spinning
Free Bonus:"34 Days to 7,000 Daily Visitors" SEO Blueprint
Free Bonus:Database of over 126,000 seed articles
Cons:
Suitable for pc but other os users can face problems.
Need to pay extra for the WordPress plugin.
Could be a bit complicated for newbies
Cannot be used for main websites
Limited Trial Period
Expensive for beginners
You will always need to do some manual corrections on generated articles.
Once you sign-up, they immediately start to upsell you with various limited deals.
Supports only the English language.
You can have up to 4,000 words per article max for rewrite.

How to use Spin Rewriter? ( A walkthrough on using Spin Rewriter)
Let's take an in-depth look at Spin Rewriter.
Spin Rewriter Dashboard: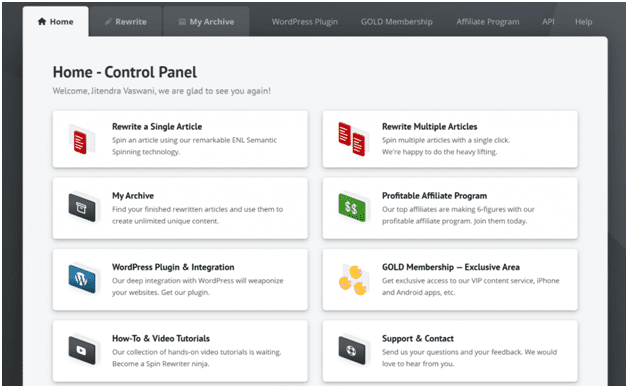 From here you can access everything that is offered.
Your options are:
Rewrite a Single Article
Rewrite Multiple Articles
My Archive
Profitable Affiliate Program
WordPress Plugin & Integration
Gold Membership
How-to & Video tutorials
Support & Contact
Rewriting Your Article with Spin Rewriter Software
You can access the rewriting process from your control panel. By clicking on the "Rewrite a Single Article". This will take you to the article rewriting wizard where you write your original article or paste the texts you want to wish to rewrite.
Like this: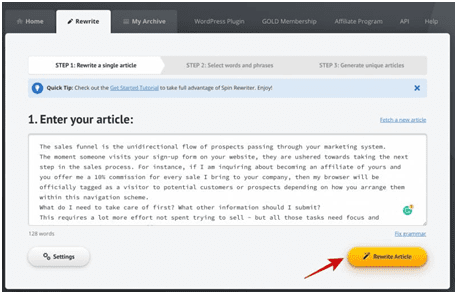 Or better still use the "Fetch a new article". To fetch articles from the SpinRewriter seed content database. This is how it looks like: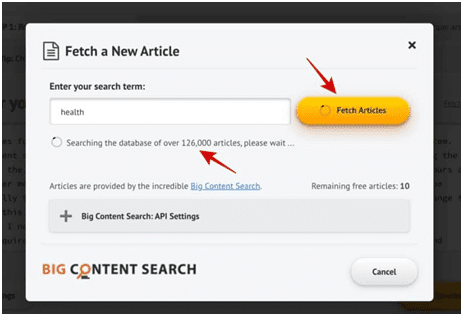 Using health as our search term. Then search the database which contains over 126k articles! You can choose from the list and "Insert Articles" into the spinning tool.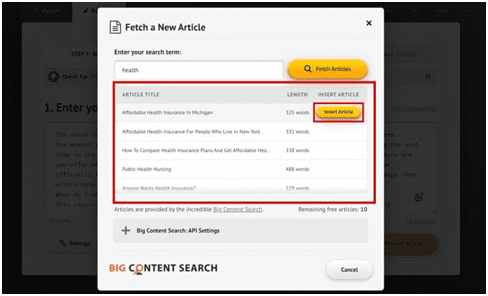 The articles in the database are really short forms. About 300-500 words.
Check Your Spun Texts (and select your synonyms)
Once your rewrite is done, it takes you to this page (Step 2):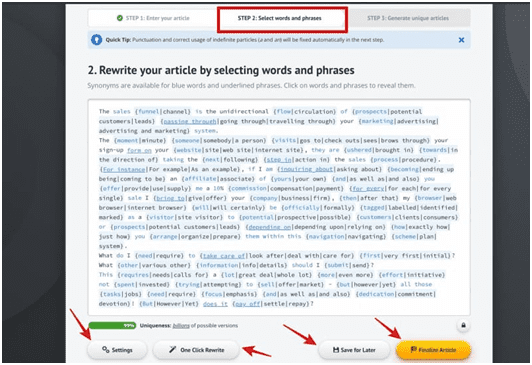 Here are some tips that that'll definitely help you:
By selecting a word you will get a list of all available synonyms for that word.
You can select individual words by simply clicking on them.
You can also select a phrase by clicking on the blue highlight that appears when you hover over a sentence. Phrases with synonyms are underlined.
This part might seem a bit technical, but don't stress it. Once you select the underlined blue words, a bunch of synonyms will come up for you to add/remove.
Like this:

Spin Rewriter added 3 possible "take care of" synonyms that could make sense
When you're done, you click the "Finalize Article" button.
You can also use the "Save for Later" button if you don't want to finalize your spun texts.
Then the "One Click Rewrite" button is for rewriting the same article again if you're not satisfied.
Finally, the "Settings" button will allow you to finetune your readability settings: more readable & less unique, recommended, or less readable & more unique.
Finalize Your Article
In this step, your article has been finalized. You can now view the spintax version and generate unique versions of your article.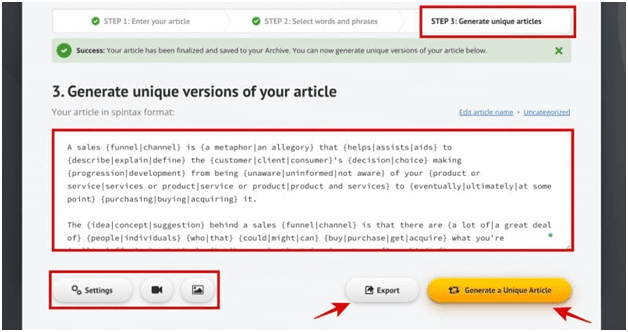 You can also:
add videos that you like
insert relevant images
export your article in any format
To add pictures. Click on Fetch Images. It will automatically fetch relevant pictures from free stock photo sites like Pixabay.
The same goes for the video, videos are fetched from Youtube.
Then for the "Export" article, you'll have to Export the finished article in spintax format
When you're done and click the "Generate a Unique Article" button – you get this: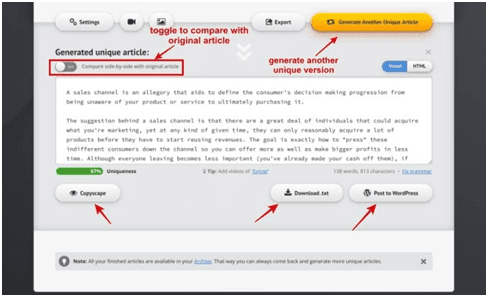 In this final step, you get many routes available for you to go on using your rewritten content:
Post to WordPress
Download text
Copyscape
Generate Another Unique Article
Spin Rewriter 12 WordPress License Plugin :
WordPress Plugin Feature #1: Automatically spin and republish old posts
What it does is it spins your old posts (Posts that are 1 week old or a month) using the ENL Semantic Spinning technology and republish them on your WordPress website.
2. WordPress Plugin Feature #2: Automatically fetch new posts
This will find relevant articles from other websites completely on its own and then spin them using the ENL Semantic Spinning technology and republish them on your WordPress website.
Spin Rewriter offers three payment plans:
$47 per month, which is probably the most expensive one.
$197 per year, which is the most popular package.
$497 lifetime payment, which is the most expensive, but after all, it is a lifetime license to use the software.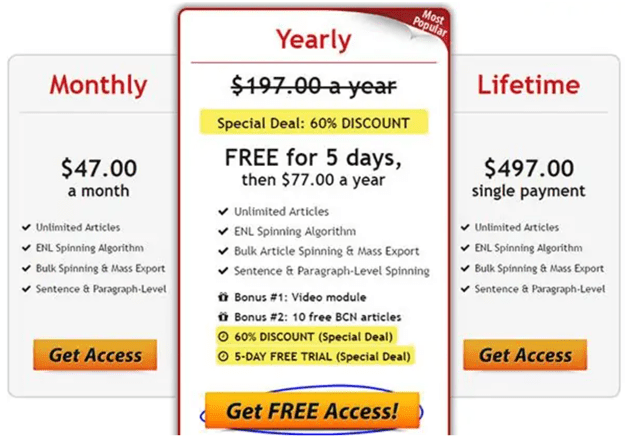 | | |
| --- | --- |
| Product | Spin Rewriter 12 |
| Type | Rewriting tool |
| Price | $47 |
| Release Date | 6th Oct 2021 |
| Recommended | Highly |
| Skills required | Basic |
| Support | Effective |
| Refund | 30 DAY MONEY BACK |
| Final Rating | ⭐⭐⭐⭐ |
So after looking at everything that Spin Rewriter 12 has to offer, I think it is obvious that it is one of the most helpful tools out there. It does a lot of work for you and it does it very well. There are also so many features that make your work even better.
We have seen how it is unique and how easily it stands apart from other rewriting tools. As a content writer I would 100% recommend this to anyone who wants to make their articles be the best version of themselves.
Spin Rewriter 12 is out this Oct 6th 2021 and I would recommend you to go get your hands on it.
Here are my ratings for this product:
| | |
| --- | --- |
| Spinner Quality | ⭐⭐⭐⭐ |
| Support | ⭐⭐⭐⭐ |
| Case Studies | ⭐⭐⭐ |
| Pricing | ⭐⭐⭐ |
| SEO Spinner | ⭐⭐⭐⭐ |
| Multiple Rewrites | ⭐⭐⭐⭐⭐ |
| Quality | ⭐⭐⭐⭐ |
| Speed | ⭐⭐⭐⭐ |